More than 200 students attend Penn State Behrend event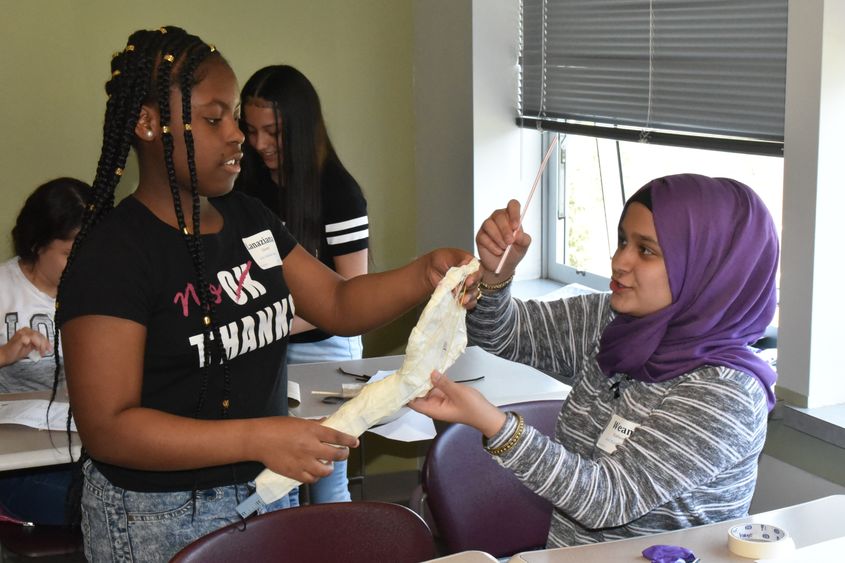 ERIE, Pa. — Lanaziana Glover pulled the tape tightly around the toilet paper tube, which served as the handle for her homemade tennis racket.
"We want to make the handle here harder, so it will have more force when we hit the ball," said Glover, a seventh-grade student at East Middle School.
But what good is force if it can't be controlled? That's why Weam Kathen, also a seventh-grader at East, quickly grabbed some extra aluminum wire.
"We're also trying to make this net more stable, too," said Kathen as she tied the wire around the racket. "We need to be able to direct this more, so we can hit the bullseye."
Glover and Kathen were two participants in the "Tennis Anyone?" workshop at Math Options Career Day, held Tuesday, May 8, at Penn State Behrend. The daylong program, now in its 22nd year, was designed to introduce young girls to careers in science, technology, engineering and mathematics — fields that generally are dominated by men. Workshops were led by Penn State Behrend faculty members and women in careers at GE Transportation, Erie Insurance Group, LORD Corporation, Larson Texts and BASF Corporation.
In "Tennis Anyone?" the girls were tasked with designing and engineering a racket out of everyday materials. They had to adhere to several guidelines that fall under the modern rules of tennis.
They then used the racket to launch a Velcro-covered pingpong ball toward a target.
"This lets them work through the design process, so they realize your first idea won't always be the right one," said Nalia Foister, a lead program management engineer for GE Transportation who led the workshop. "This really does mimic real life. Design iteration is part of our daily jobs because customers will give you design criteria and almost always change it multiple times before the final design is approved."
Elsewhere during the day, students got a chance to smash some eggs. They tried, at least.
In the activity "Walking on Egg Shells," led by employees from BASF Corporation, students attempted to smash an egg by squeezing it in the palm of their hand. That was easier said than done. Students soon found out that the curved form of the shell distributes pressure evenly, so the egg could not be broken.
Students had a similar experience when they later tried to walk on the eggs. Despite a crack here or there, most remained intact.
"It was bumpy and almost felt like you were walking on gravel," said Gabriella McAllister, a seventh-grade student at Erie First Christian Academy. "It wasn't pointy, but you could feel the yoke under you and it almost felt wet."
In all, 19 different workshops and activities were held throughout the day.
"This has just really been a fun day," Glover said. "Just being able to create and build stuff is so fun."
Contact
Steve Orbanek
Marketing Communications Coordinator, Penn State Erie, The Behrend College