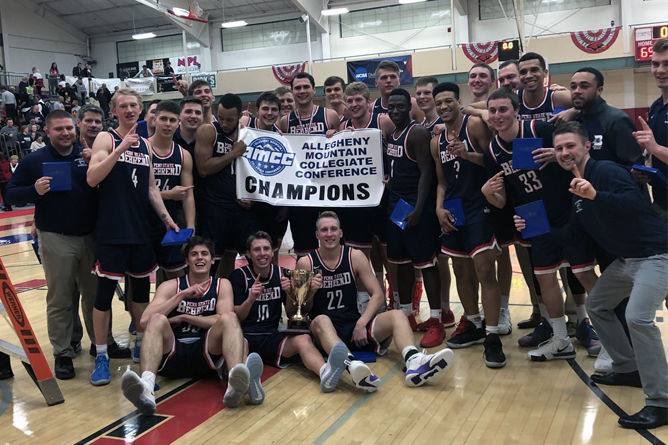 ERIE, Pa. — The Penn State Behrend men's basketball team won the Allegheny Mountain Collegiate Conference championship with a 67-65 upset of La Roche. The women's team placed second.
The college's swimming, wrestling, volleyball, tennis and water polo teams also were in action last week. Here are the highlights:
Men's basketball
Penn State Behrend 67, La Roche 65 (AMCC championship)
Penn State Behrend 82, Medaille 52
Dan Wanker, a senior from Pittsburgh, scored 20 points against Medaille. In the title game, Justin Gorny, a senior from South Park, scored six points in the final 1:02 of play to lock in the win.
Women's basketball
Hilbert 64, Penn State Behrend 54 (AMCC championship)
Penn State Behrend 57, La Roche 56
Penn State Behrend 67, Penn State Altoona 60
Ashley Seamon, a freshman from West Allegheny, scored 14 points in the title game against Hilbert. Alanna Dibble, a freshman from Lakewood, New York, scored 19 points and added 11 rebounds against La Roche.
Men's swimming and diving
Six swimmers competed at the Kenyon Fast Chance Invite in Gambier, Ohio. The 200-freestyle relay team — Mark Patterson, Quinn Fischer, Alex Croll and Chase Bietz — won the event, finishing in 1:25.84.
Wrestling
Sixteenth (of 20 teams) at the NCAA Division III Southeast Regionals
Jake Paulson, a sophomore from Erie, won five consecutive matches and placed third overall in the 184-pound weight class. He is the first Penn State Behrend wrestler to advance to the NCAA Championships, which begin on March 1.
Men's volleyball
Wittenberg 3, Penn State Behrend 0
Penn State Behrend 3, Penn State Altoona 2
Penn State Behrend 3, Medaille 1
Josh Matthews, a junior from Rochester, New York, scored a match-high five aces against Penn State Altoona — including three in a row in the decisive fifth set.
Men's tennis
Penn State Behrend 6, Westminster 3
Baldwin Wallace 8, Penn State Behrend 1
Belden Tuttle, a sophomore from Fairview, was undefeated in singles action. He earned the lone win against Baldwin Wallace, finishing 6-2, 4-6 and 10-8.
Women's water polo
Occidental 15, Penn State Behrend 7
Villanova 26, Penn State Behrend 3
McKendree 21, Penn State Behrend 6
Wittenberg 14, Penn State Behrend 10
Lauren Wood, a senior from Vernon Hills, Illinois, scored six goals against Occidental. She scored five more against Wittenberg.
Scores, results and updates for Penn State Behrend athletics are posted at psblions.com.
Contact
Robb Frederick
Assistant director, news and information, Penn State Behrend
Jill Yamma
Sports information director, Penn State Erie, The Behrend College