More than 200 middle-school girls attend Penn State Behrend event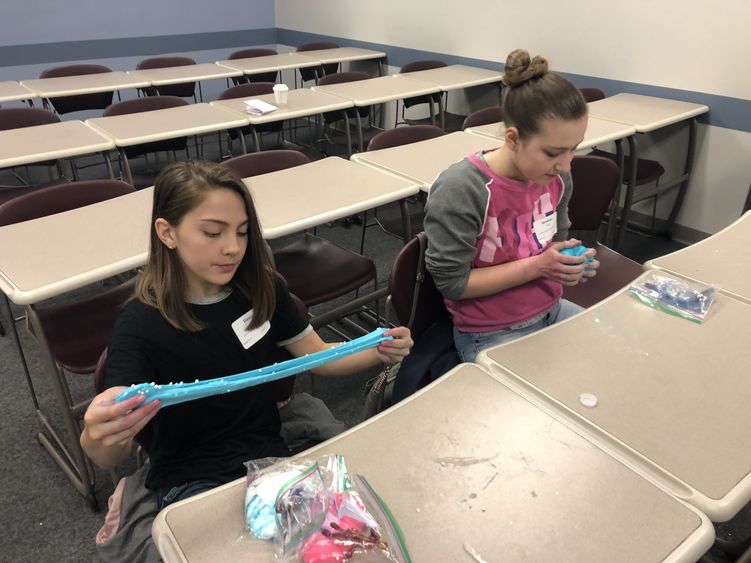 ERIE, Pa. — For most young people, slime is an easy sell. How could Nickelodeon have survived after all these years if that's not the case?
The accessible nature of the soft, slippery substance also makes it perfect for science experiments. Just ask Danica Park and Kristine Wurst.
"This is the third batch I've made so far today," said Park, a seventh-grader with the Seton Home Study Group, as she squeezed slime through her fingers. "It's just so fun to make."
"It's pretty cool to think of how the glue reacts with the borax to make this slime," added Wurst, an eighth-grader with the Seton Home Study Group.
Wurst and Park were two participants in "The Science of Slime" workshop at Math Options Career Day, held May 7, at Penn State Behrend. A total of 215 seventh-and eighth-grade girls from 32 school districts participated in the hands-on workshops and activities throughout the day.
The daylong program, now in its 23rd year, is designed to introduce young girls to careers in science, technology, engineering and mathematics — fields that generally are dominated by men. Workshops were led by Penn State Behrend faculty members and women in careers at Wabtec, Erie Insurance, LORD, Larson Texts, Knox Law Firm, Acutec Precision, the City of Erie, and TechnipFMC.
"The Science of Slime" was led by a trio of Erie Insurance employees. During the activity, attendees learned about the chemical reaction that actually produces slime, before actually getting to create that reaction themselves.
"We went over how the polyvinyl alcohol or glue mixes with the borate ion (Borax and water) to create what they know as slime," said Michelle Solis, an IT administrator at Erie Insurance. "We wanted an activity that offered a good amount of science, but also allowed them to have some fun, too."
It seemed to accomplish both goals.
"This is just so fun to play with," Park said. "It's very relaxing, almost like a stress ball."
Park and Wurst were among several attendees who already have high career aspirations. Park hopes to be a dermatologist, while Wurst would like to be a paramedic.
Since they're both home-schooled, a trip to a college campus was far from a conventional day. That was another thing that made Math Options such a valuable experience.
"I just really like how all of these classes have been run today," Wurst said. "We do not usually have days like this, but it's really good. That way, when we do eventually go to college, we'll know what it's like."
Contact
Steve Orbanek
Marketing Communications Coordinator, Penn State Erie, The Behrend College