Penn State Behrend weeklong STEAM camp is attended by nearly 50 girls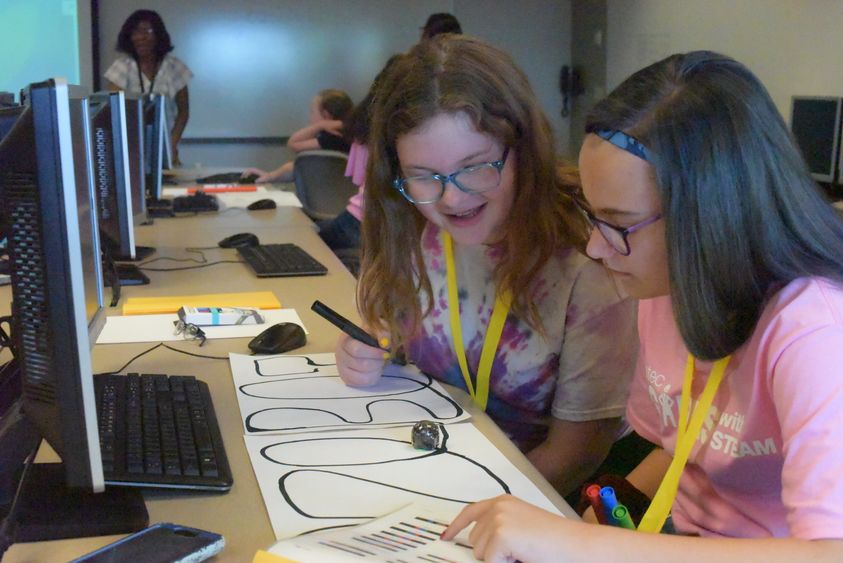 ERIE, Pa. — Most animals are very limited when it comes to their color vision. An Ozobot though, that's a different story.
Kendra Kope and Emma Stafford, both seventh grade students in the General McLane School District, traced several different colored lines on pieces of white construction paper. They then watched as an Ozobot, a pocket-sized coding robot, followed each line, changing direction whenever it encountered a new color.
"You can program it to move with these different codes, but it's also able to recognize all of these colors, which is really cool," Kope said.
Kope and Stafford were two of the 50 seventh- and eighth-grade female students who attended Wabtec Girls With STEAM at Penn State Behrend in late June. The program is a weeklong science, technology, engineering and math camp where attendees are paired with female mentors from Wabtec Corp. Other women — Wabtec engineers and faculty members from Penn State Behrend — lead classroom and lab sessions.
The program introduces girls to careers and fields they might not previously have known about. In the Ozobot session, participants programmed the robots to perform specific actions.
Kope and Stafford even created a multicolored track, which spelled out the word "Ozobot."
Attendees took part in more than 20 STEAM-related activities throughout the week. One day, they made lip gloss. On another, they toured the college's 10,500-square-foot plastics processing lab. They capped the week off by creating their own ice cream, which they of course got to eat before heading home.
For Stafford, the entire week was rewarding.
"Some people our age don't really think about college and then they might not know what they want to do, so they get stuck," Stafford said. "That's why a week like this is so important."
Stafford and Kope are also already thinking ahead to how they might better prepare themselves for college.
"This makes me think that I might want to join the robotics team once I get to high school," Kope said.
"Me, too," added Stafford.
Contact
Steve Orbanek
Marketing Communications Coordinator, Penn State Erie, The Behrend College