Children in the College for Kids program learn to love burgeoning sport of "ultimate"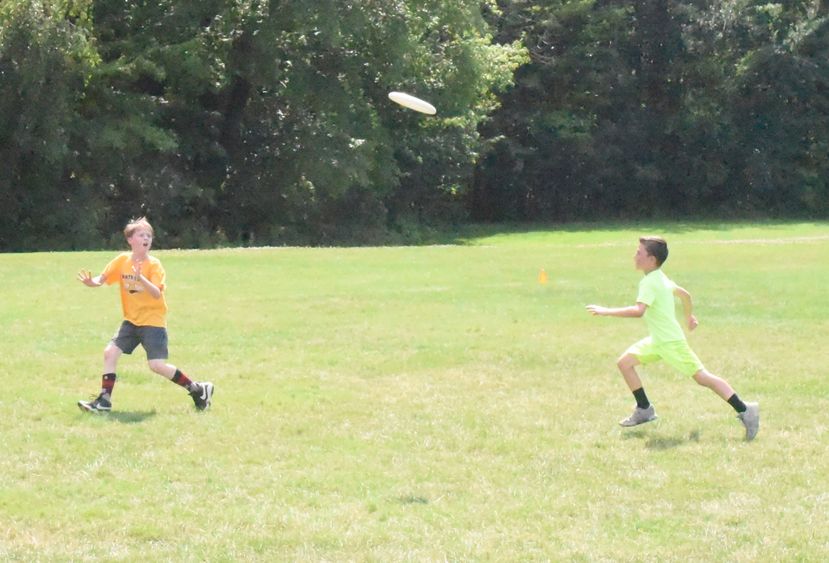 ERIE, Pa. — Liam Freeboro likes sports. Soccer, baseball, basketball — they've all been among his favorites.
After attending Penn State Behrend's College for Kids summer program, he now has a new favorite: "ultimate," previously known as ultimate frisbee.
"It's just so fun and interesting," said Freeboro, a Philadelphia resident who attended the College for Kids program while visiting family this summer. "I like how you're always moving but then have to stop once you catch the disc."
Ultimate is a noncontact team sport played with a flying disc. This summer, the College for Kids program offered an introduction to the sport through a course titled "Ultimate Frisbee/Disc Golf - STEM Style!" — one of more than 100 half- and full-day courses offered during Penn State Behrend's College for Kids.
More than 700 children between the ages of six and 14 participated in the weeklong College for Kids program this summer. In addition to ultimate, courses focused on everything from robotics and video game design to baking and mural painting.
"Ultimate Frisbee/Disc Golf - STEM Style!" was unique in that it incorporated STEM principles into the strategies used by the players.
"A lot of the course focuses on the physics of the sport," said Hayden Weaver, the course instructor, who also manages the local recreational ultimate group, Erie Ultimate League Enterprises. "We show them how throwing at different angles will produce different results and also focus on when it's beneficial to throw lighter versus harder."
Fifth grader John Bierer was busy taking mental notes throughout the week. The Chestnut Hill Elementary School student demonstrated how he "flicks" the flying disc and noted that he hopes to play the sport recreationally, especially since he now has all the secrets to help him against the competition.
"It's been really fun, and we've been learning all kinds of stuff," Bierer said. "It's not that you can't throw from your forearm, but it is a lot harder. You have to put more flick into it, to ensure it goes where you want it to go."
Cara Hirz, a sixth grade student in the Fairview School District, also quickly took to the sport of ultimate. She has high aspirations for its future.
"I play soccer and some other sports, but I've been wanting to learn this one for awhile," Hirz said. "It's just so fun. Someday, I just know that it's going to be in the Olympics."
Contact
Steve Orbanek
Marketing Communications Coordinator, Penn State Erie, The Behrend College