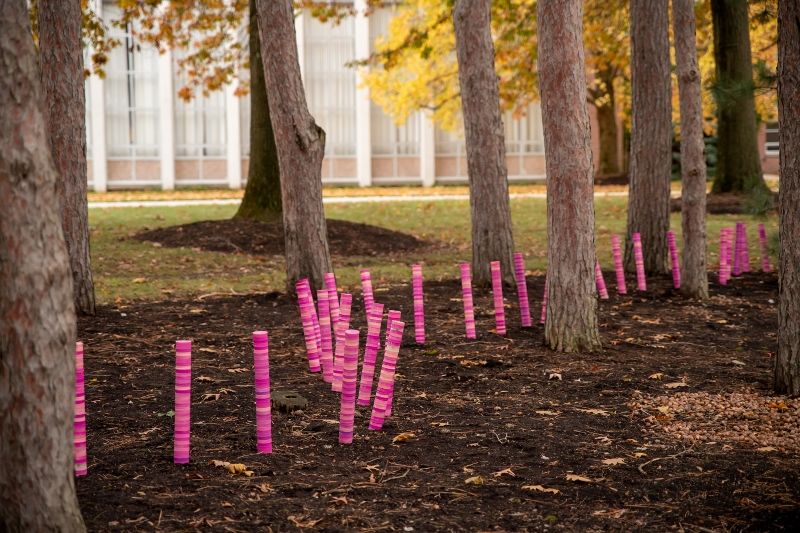 ERIE, Pa. — Penn State's Campus Arts Initiative will unveil Lauren Herzak-Bauman's site-specific artwork, "Colorwalk," at 11 a.m. Monday, Nov. 11, at Penn State Behrend. A meet-the-artist event will be held at the "Colorwalk" site, outside the Reed Union Building. Herzak-Bauman also will participate in an artist's talk at 5 p.m. in Metzgar Center.
"Colorwalk" is composed of thousands of stacked plastic discs, creating vertical bars that meander through the tree line.
"The goal of 'Colorwalk' is to create an artistic presence on campus by placing a colorful gesture that both highlights and contrasts the landscape," Herzak-Bauman said.
"Colorwalk" is a collaboration between Penn State Behrend's Arts Administration (ARTSA) and Plastics Engineering Technology (PLET) programs. ARTSA students helped select Herzak-Bauman from nearly 160 applicants and helped plan the installation and promotion of "Colorwalk." PLET students molded more than 8,000 individual plastic discs that were used in the installation.
"I hope that this work of art will be a physical testament to the power of interdisciplinary collaboration," said Matthew Levy, chair of the Arts Administration program at Penn State Behrend. He sees "Colorwalk" as an opportunity to create new academic partnerships.
Herzak-Bauman was born and raised in Ohio, where she creates sculptures, installations and public art that explores relationships between memory, nature and loss. She studied ceramics at Bowling Green State University and the University of Minnesota-Twin Cities. Her work "Common Energy" is on display at the Cleveland Public Library's Eastman Reading Garden.
"Colorwalk" is one of eight pieces of art being installed through Penn State's Campus Arts Initiative. The initiative is funded by the University's Strategic Planning Seed Grant program, which seeks projects that further the University's goals for impact and engagement.
Dalton Dougherty, a senior from Mayport, is an arts administration major at Penn State Behrend.
Contact
Robb Frederick
Assistant director, news and information, Penn State Behrend