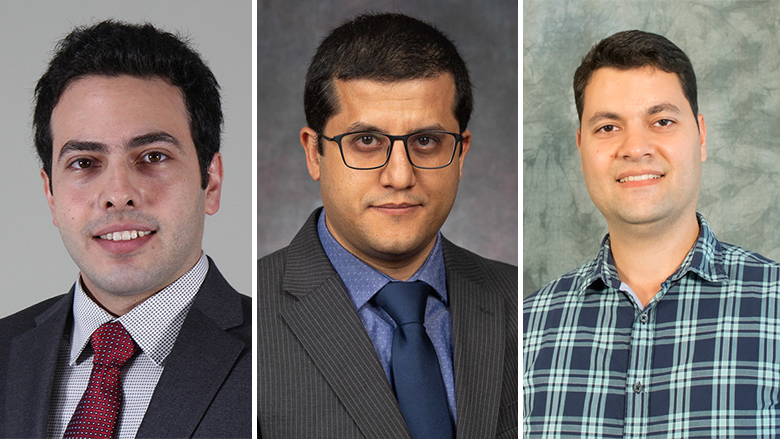 MALVERN, Pa. — Ashkan Negahban, assistant professor of engineering management at Penn State Great Valley, recently received a three-year, $831,276 grant from the National Science Foundation (NSF) for his research on immersive simulation-based learning (I-SBL).
"This is an outstanding recognition of the great work Dr. Negahban and coworkers across the Commonwealth Campuses have been doing in this area," said Great Valley Chancellor James Nemes. "This grant also demonstrates the importance of Penn State's Strategic Plan Grants Program, which was used to seed the ideas carried forward in this award."
The work, which began as part of the University's Strategic Plan Seed Grants on transforming education, spans multiple campuses. Omar Ashour, associate professor of industrial engineering at Penn State Behrend, and Sabahattin Gokhan Ozden, assistant professor of IST at Penn State Abington, are the project's co-principle investigators.
"We are extremely excited about this NSF grant as it allows us to expand the impacts of our project beyond Penn State," Negahban said. "Our proposed I-SBL approach addresses several scalability issues that commonly used immersive technologies in STEM education generally face — for example, high cost of and limited access to virtual reality equipment or learning spaces designed for immersive experiences. Learners' access to these resources is especially limited in online education and during periods of distance learning as a result of the current or any future pandemic."
Negahban, Ashour and Ozden's work involves the creation and use of 3D virtual-reality environments in engineering settings that immerse learners in simulation models. The team partnered with Simio, a simulation software company based near Pittsburgh; using Simio's products, they plan to generate education modules that are aligned with industry needs and represent real-world situations.
"A one-size-fits all approach to STEM education isn't enough to prepare students for the ongoing digital transformations taking place in today's workspaces," said David T. Sturrock, vice president of products at Simio. "This project will advance conventional problem-based learning approaches while teaching learners the relevant skills that prepare them for a workforce defined by emerging technologies. We're excited to apply Simio's digital twin solutions and virtual reality capabilities to support this innovative approach to STEM education, as well as help personalize problem-based learning for both educators and students."
The modules will be available to a variety of groups, including self-learners and online, residential, graduate and two- and four-year college students.
The project aims to address two primary goals: the paucity of scientific evidence regarding novel learning environments enabled by immersive simulations in STEM education, and the lack of evidence regarding the contribution of virtual reality (versus two-dimensional simulations) to STEM education.
"This research will extend our understanding of the effect of virtual reality in education and evolve a very well-known student-centered pedagogy called problem-based learning to a new level via immersive technologies and simulation," Ozden said. "Moreover, the I-SBL modules respond to the need for properly trained workers to fill jobs created by emerging technologies and to the growing need for innovative approaches to STEM education and workforce development during crises that mandate social distancing. This NSF grant will help us to continue our work that started via Penn State's strategic initiative seed grant."
The learning modules would help advance contextualized learning in STEM disciplines by eliminating common barriers, like geographically dispersed learners in online education, logistical constraints and limited access to real-world facilities and data.
The team will use data collected from undergraduate, graduate and professional students enrolled in online and face-to-face courses at Penn State to compare traditional and immersive simulation problem-based learning. Their assessments will investigate a variety of elements, including the effectiveness of their I-SBL approach; how demographics, personality type, prior preparation, motivation and engineering identity could help predict learning and workplace performance using predictive analytics; and the relationship between usage/navigation and skill development using video analytics and analyses of recorded virtual site visits.
"One of my research areas focuses on the development and use of immersive technologies in STEM education and training," Ashour said. "The synergistic effect of immersive technology, powerful pedagogy and real-world context in our approach improves student motivation and leads to deeper understanding and greater comprehension of concepts. We aim to build a repository of immersive learning modules that are freely available and can be used by instructors as well as students anytime and anywhere. Our research effort in this project is targeting different student populations across Penn State, including distance-based students, which will help improve and inform our understanding of education, especially during crises that require social distancing."
Although the proposal was submitted months before the COVID-19 crisis, the team's I-SBL modules could help address workforce issues stemming from the pandemic. As the need for trained workers and innovative approaches to STEM education grows, the modules could help prepare students to fill a variety of jobs, despite social distancing measures limiting in-person interactions.
"While the benefits of our proposed method during crises that mandate social distancing weren't our main focus when we submitted the proposal in October 2019, the shift to online learning during the COVID-19 crisis in spring 2020 further reveals the importance and timeliness of our project," Negahban said. "I look forward to sharing our research findings and the resulting I-SBL modules with STEM education researchers and instructors."