Two-time Grammy Award-winners will perform in Music at Noon: The Logan Series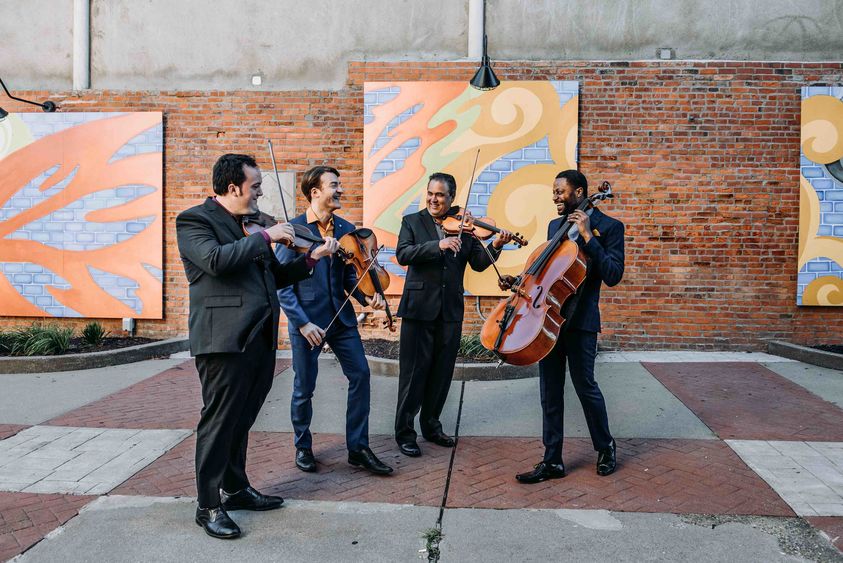 ERIE, Pa. — The setlist for the Turtle Island Quartet's Jan. 15 concert at Penn State Behrend will be familiar to most jazz fans: The band, which has won two Grammy Awards, will perform songs from John Coltrane's seminal LP "A Love Supreme."
Those compositions play to the improvisational strength of the quartet's members — David Balakrishnan and Gabriel Terracciano on violin, Malcom Parson on cello and Benjamin von Gutzeit on viola.
"These conservatory-trained musicians are merging nothing," LA Weekly wrote of Turtle Island's take on Coltrane. "Rather, they take their violins and cello and plunge deep into the stream of jazz and master one of its greatest works."
In doing so, the band maps new ground. Turtle Island is a string quartet, a chamber-music group with deep roots in classical traditions. The players are restless, however: They have toured with guitarist Leo Kottke, Irish fiddler Liz Carroll and Cajun bandleader Michael Doucet, who founded BeauSoleil. In 2010, the quartet released a collection of Jimi Hendrix covers.
The group's performance at Penn State Behrend is part of Music at Noon: The Logan Series. The program, which is free and open to the public, begins at noon in McGarvey Commons, in the college's Reed Union Building. Reserved parking for audience members will be available in the Reed lot.
Now in its 30th season, Music at Noon was designed in part to make chamber music more accessible. The concerts are informal, and a portion of the seating is reserved for students from Erie's Diehl Elementary School.
The Turtle Island Quartet is a particularly good fit. The group, which first performed at Music at Noon in 2010, has twice won Grammy Awards for Best Classical Crossover Album.
"If groups like us didn't exist, you would still be looking at string quartets playing only Beethoven and Mozart," Balakrishnan told a writer from Strings magazine. "What about this way of making music that came out of America? Jazz and folk and all this great stuff?
"Turtle Island is, we hope, a model of how string music will continue to evolve."
Music at Noon: The Logan Series was founded by Mrs. Kay Logan in 1989 and receives major support from the Kay Logan Trust. Additional funding is provided by the Penn State Behrend Student Activity Fee. Music at Noon receives state arts funding support through a grant from the Pennsylvania Council on the Arts, a state agency funded by the Commonwealth of Pennsylvania, and the National Endowment for the Arts, a federal agency. Additional support for this program is provided in part from an Erie Arts & Culture Project grant, made possible by community contributions to the Combined Arts & Cultural Campaign and the Erie Arts Endowment.
To learn more about the Logan Series, contact series director Gary Viebranz at 814-898-6289 or [email protected]. To subscribe to Music at Noon Notes, an online guide to the series, visit musicatnoon.wordpress.com.
Contact
Robb Frederick
Assistant director, news and information, Penn State Behrend