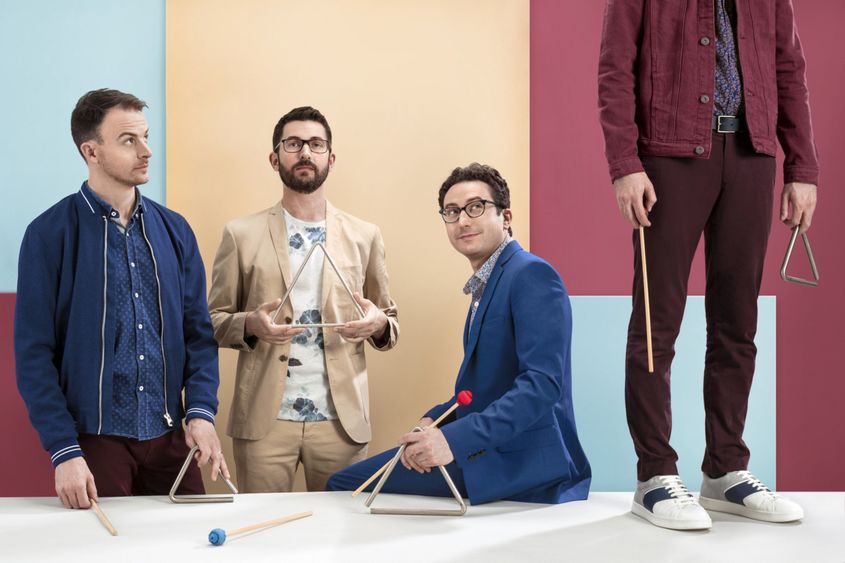 ERIE, Pa. — Third Coast Percussion will perform "Perpetulum" and other selections during a free lunchtime concert at Penn State Behrend's McGarvey Commons on Wednesday, Feb. 5. The performance, which is free and open to the public, is part of Music at Noon: The Logan Series.
"Perpetulum," the centerpiece of Third Coast Percussion's current tour program, was written by the minimalist composer Philip Glass. It was his first work commissioned for a percussion ensemble.
The piece "serves up something unusual: a journey beyond the chord sequences and melodic loops that have become Glass's calling card," the Guardian wrote in a 2019 review. "This is easily his freshest, most imaginative score in years."
The ensemble also will perform at Titusville First Presbyterian Church on Tuesday, Feb. 4. That performance, also part of Music at Noon, is made possible by funding support from the Rees Foundation.
Both concerts also will feature music by Danny Elfman, Augusta Read Thomas and Devonte Hynes, who performs as Blood Orange. That range is typical of the ensemble's approach: Third Coast has collaborated with dancers at Hubbard Street Dance Chicago, astronomers at the Adler Planetarium and architects at the Frank Lloyd Wright Foundation.
The group often invites audience members to play along with them, or to create original music on Third Coast's mobile app.
Third Coast formed in 2004 at Northwestern University, where the group's members — Sean Conners, Robert Dillon, Peter Martin and David Skidmore — studied percussion music. The members also hold degrees from the Eastman School of Music, the New England Conservancy and the Yale School of Music.
The ensemble has recorded six full-length albums and three EPs. In 2017, the group won a Grammy Award for Best Chamber Music/Small Ensemble Performance. They were nominated again in 2019.
Third Coast performed at Penn State Behrend in 2014. The group returns for the 30th season of Music at Noon, which was designed to make chamber music more accessible to audiences of all ages. A portion of the seating at each concert is reserved for students from Erie's Diehl Elementary School.
Music at Noon: The Logan Series was founded by Mrs. Kay Logan in 1989 and receives major support from the Kay Logan Trust. Additional funding is provided by the Penn State Behrend Student Activity Fee. Music at Noon receives state arts funding support through a grant from the Pennsylvania Council on the Arts, a state agency funded by the Commonwealth of Pennsylvania, and the National Endowment for the Arts, a federal agency. Additional support for this program is provided in part from an Erie Arts & Culture Project grant, made possible by community contributions to the Combined Arts & Cultural Campaign and the Erie Arts Endowment.
To learn more about the Logan Series, contact series director Gary Viebranz at 814-898-6289 or [email protected]. To subscribe to Music at Noon Notes, an online guide to the series, visit musicatnoon.wordpress.com.
Contact
Robb Frederick
Assistant director, news and information, Penn State Behrend