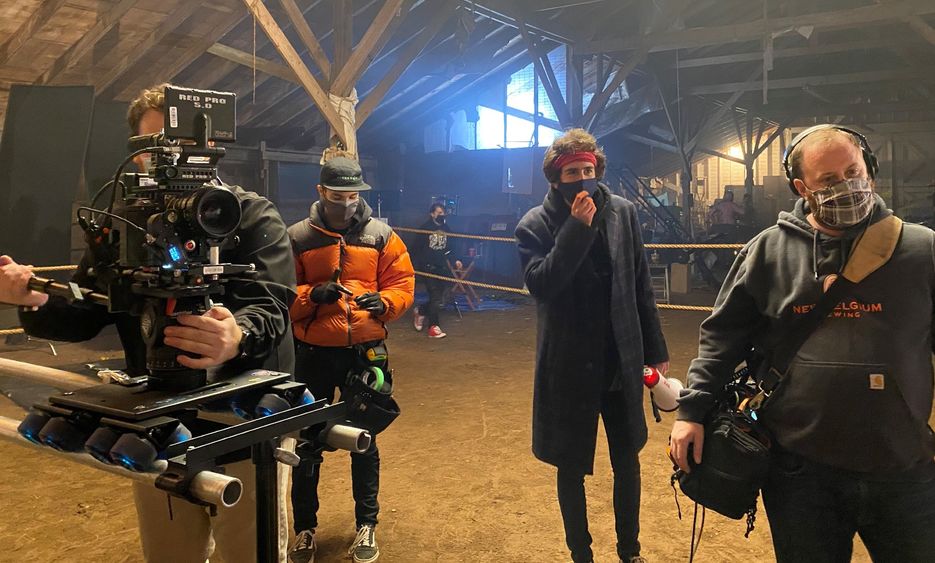 ERIE, Pa. — A short film about bare-knuckle boxing — a 20-minute drama created by two Penn State Behrend students, using equipment borrowed from the college — will debut on the festival circuit later this year.
The film, "Alexander the Brain," tells the story of Alexander Conroy, a boxer at odds with a rival gang leader. It's set in the years just after the Civil War.
"The period after the Civil War was a really divisive time," said Danny Pakulski, the film's writer and director and a 2021 graduate of Penn State Behrend's Digital Media, Arts and Technology program. "I saw a connection between that era and where we are in this country today, and I wanted to look at that."
Pakulski created the film with former classmate Liam O'Brien, who served as executive producer. With a third partner — Simon Yahn, a film student at Rochester Institute of Technology — they run Oddity Productions. The company is named for David Bowie's song "Space Oddity."
The film was shot in Erie in 2020. The lead actor, Jacob Ames, met O'Brien at Starbucks, where both worked. Much of the film was recorded in the attic of the home where Ames lives — a creaky, dusty, wood-framed space reminiscent of an earlier time in the country.
The widespread COVID-19 shutdowns complicated production but also gave the crew time to work through all aspects of the project, including fundraising. For that, the team looked to Indigogo, a crowdfunding website. They raised nearly $6,000 using the site.
They kept their costs low by borrowing equipment from Behrend's Open Laboratory for Digital Creations (BOLD-C), an outreach program of the School of Humanities and Social Sciences. BOLD-C encourages collaboration between students and community filmmakers, nonprofit institutions and commercial clients by providing access to state-of-the-art filmmaking equipment, purchased through a gift to the college, at a reduced rate.
Pakulski writes and directs much of Oddity's work, which includes paid commercial projects.
"Writing is the hardest part," he said. "You're just sitting there, staring at a blank screen. When you're directing, at least you have a script to go by."
Directing presents its own challenges, however. "Shooting is the performative part," Pakulski said. "Everyone has to be on top of their game and perform their part, whether that's directing, acting, lighting, makeup or sound."
Pakulski first became interested in film while a student at Fairview High School, where he and Yahn were the go-to guys for audiovisual projects. One of those projects led them to O'Brien.
"I asked Danny to help me film an advertisement for a school project," said O'Brien, a dual-major in international business and finance at Behrend. "Little did I know that I'd be coming up with advertising ideas and filming them with Danny three years later."
Oddity has done work for several Erie businesses, including Altered State Distillery, the Tipsy Bean coffee shop, the Presque Isle Partnership and Erie Brewing Co. Pakulski and O'Brien hope to continue to expand that work, and to develop new film opportunities for students at Behrend. They're organizing a new club at the college, using the BOLD-C gear to support student-created speculative advertisements for local companies.
"The Behrend club aligns with our company's mission to raise awareness and build the film scene in Erie," O'Brien said. "We want to make film production more accessible."
It's important that the work stay in Erie, Pakulski said. He has no interest in moving the business to California or New York City.
"Erie is very versatile," he said. "You can find nearly any setting you want here — forest, downtown, beach, farm — and it's cheap to live and work here."
Contact
Heather Cass
Publications and design coordinator
Penn State Erie, The Behrend College