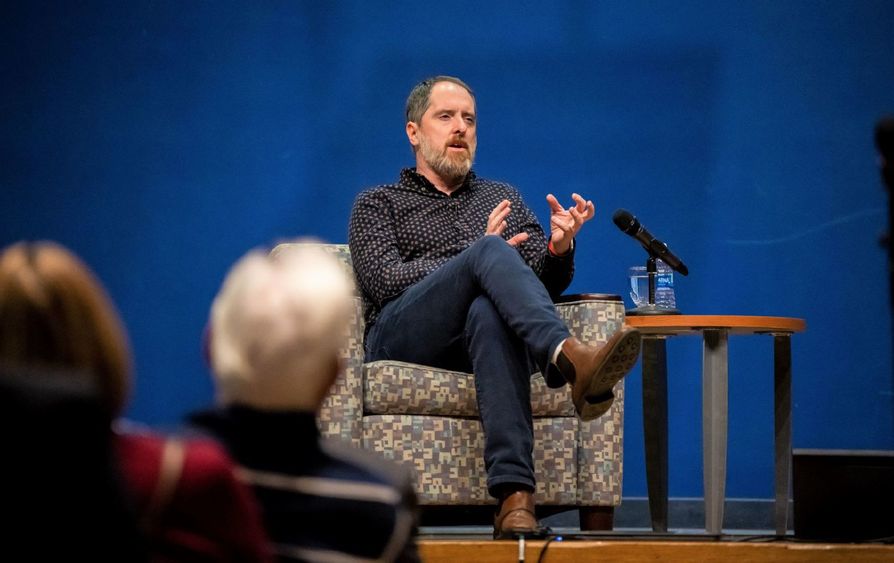 ERIE, Pa. — "If you have even a kernel of confidence, some thought deep inside of you that says, 'I think I'm good at this one thing,' listen to that voice," said "Ted Lasso" actor and writer Brendan Hunt at a recent Penn State Behrend talk. "Listen to all the other stuff, but be sure you listen to that voice, too. Because that's you."
"My first sense that 'Ted Lasso' was going to work was in London," said Hunt, who is the show's co-creator and visited Penn State Behrend on Feb. 13 as part of the college's Speaker Series. Lasso plays Coach Beard on the Apple TV+ series, which has won 11 Emmy Awards.
"We were on set, and shooting, and the crew was laughing," he said. "Now, English people are inherently witty. They have a high threshold of what is, and isn't, funny. And the show wasn't a thing yet. None of them had to give the smallest of damns about it. But they were laughing. Actually, they were trying not to laugh, not wanting to ruin the take. I saw that, and I thought, 'That can't be a bad thing.'"
"Ted Lasso" was a huge boost for Hunt. He had won roles on "Community," "Key and Peele," and "Parks and Recreation." He was getting small parts in movies, including "We're the Millers," which starred Jason Sudeikis, who had found success on "Saturday Night Live." But there were setbacks.
Sudeikis, a longtime friend, called him during post-production on "We're the Millers." The news wasn't good.
"He said, 'Bad news, buddy. Your scene got cut,'" Hunt remembered. "Then he said, 'But there's this soccer thing.'"
NBC had purchased the rights for the Premier League soccer broadcasts. Sudeikis had worked up a character — an American football coach who knows nothing about soccer — to promote the games. Maybe Hunt could play one of the assistant coaches.
Hunt knew how to play off Sudeikis. He also knew soccer.
"Soccer is great," he said. "Soccer has all the stuff: all the drama, all the history, all the rivalries. And it's over in two hours."
So, he went to London. And he saw they were on to something.
"I often hear Ted described as this fantasy character of positivity," he said. "I don't think he is. That's just Jason, playing people he knows – coaches, teachers, decent people. Ted isn't positive all the time, like some Smurf or Care Bear. He's going through some stuff, and it isn't all good, but he doesn't carry it with him. He doesn't let it color the way he treats other people.
"It works because it isn't made-up, aw-shucks Jimmy Stewart stuff," he said. "It's Jason playing energy he knows. It's right there for him."
Learn more about Penn State Behrend's Speaker Series, which concludes on March 23 with a talk by Wanjiku "Wawa" Gatheru, the founder of Black Girl Environmentalist.
Contact
Robb Frederick
Assistant director, news and information, Penn State Behrend