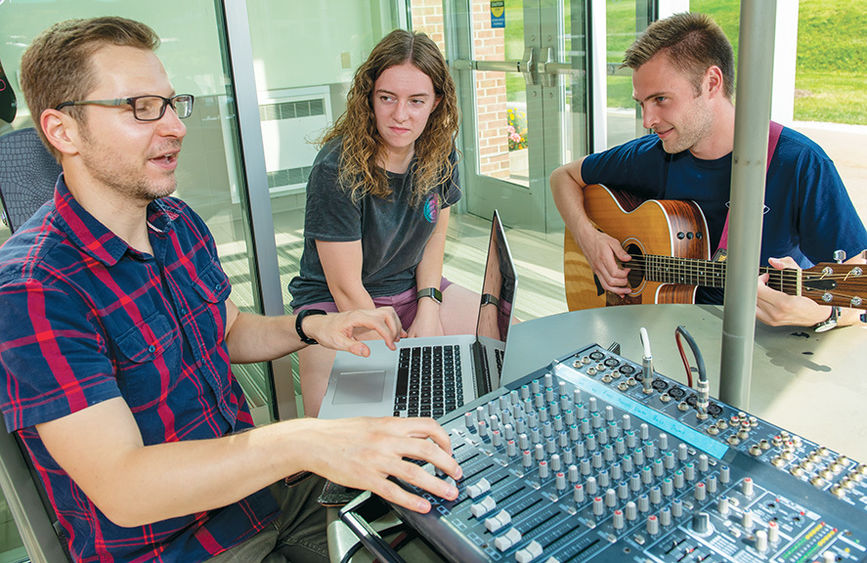 An album recorded by two Penn State Behrend students -- and engineered by a Behrend faculty member -- is now available on Apple, Spotify and other platforms. It was released in partnership with The Cross, an Erie church where the students are parishioners.
"For Your Glory" features songs taken from the Bible's Book of Psalms, performed by Alison Huffman and Adam Boaks, both seniors at Penn State Behrend. The album, which was released this summer, was engineered by Joel Hunt, associate teaching professor of music and digital media, arts and technology.
"My role was that of a mix engineer," Hunt said. "I edited many of the audio tracks that Alison and Adam recorded and used plug-ins in Pro Tools to give the recording a more professional sound. I also used advanced mixing techniques to ensure that all of the voices and instruments were balanced and clear."
"What an artist initially records into a microphone is completely unedited," said Huffman, who is studying computer engineering. "Dr. Hunt had a lot of plug-ins and techniques to help us make it sound much better."
Huffman was even able to earn college credit for the project. She is working toward a minor in music technology, through Hunt's digital audio course and a variety of independent studies.
"When we were trying to find an independent study topic for Alison, I learned about the album she was making with Adam," Hunt said. "We thought it would be a great way to dig deeper into music production."
Hunt was impressed with the work the pair already had recorded on "For Your Glory."
"I had known Alison as a drummer, because she plays with the Penn State Behrend Jazz Ensemble, which I direct, but I didn't know that she also played piano, sang and wrote songs," Hunt said. "Adam had taken my Rudiments of Music course and done very well, but, again, I didn't know he was such a gifted singer and songwriter."
Huffman has had plenty of practice blending music and engineering. She has worked for two years as an intern at AcousticSheep, the Erie-based company that created SleepPhones – headphones that are designed to lull wearers to sleep. She works on the SleepSounds app, which uses artificial intelligence to generate sleep-inducing music, rhythms and sound patterns.
After the album was mixed, Huffman and Boaks handed it off to a distributor for final mastering and to set the levels required by Apple, Spotify, iHeart Radio and other music platforms. The album is available now by searching for "The Cross Worship" and "For Your Glory."
Contact
Heather Cass
Publications and design coordinator
Penn State Erie, The Behrend College