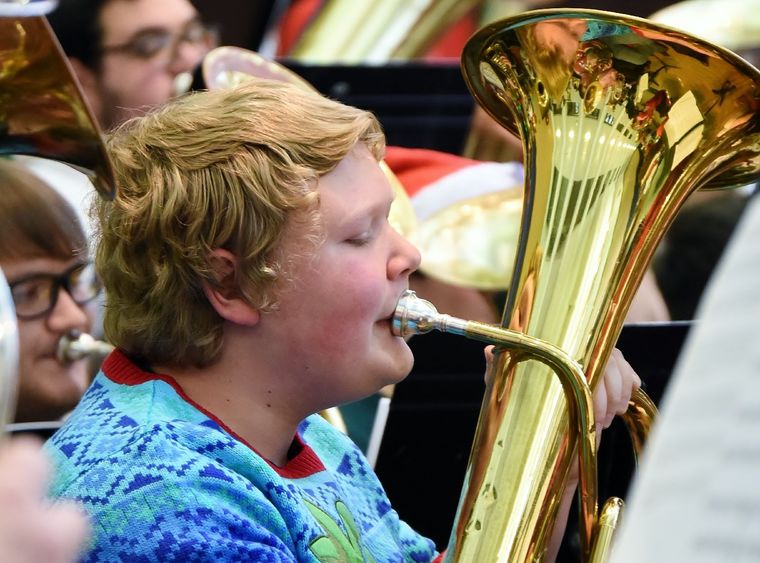 ERIE, Pa. — Tuba Christmas flips the script for low-brass musicians: For one ribbon-and-tinsel Saturday matinee, they are promoted to the front row of the stage.
"For this one concert," said Gary Viebranz, teaching professor of music and director of instrumental ensembles at Penn State Behrend, "everybody gets to play the melody. Everybody gets to play harmony. And the players rise to that."
Tuba Christmas debuted at Rockefeller Plaza in 1974. The first program was produced by Harvey Phillips, who played circus gigs before earning a spot in the U.S. Army Field Band. He later studied at Julliard.
Phillips staged the first Tuba Christmas concert to honor his former tuba teacher, William J. Bell, who was born on Christmas Day in 1902. He opened it only to low-brass musicians: tuba, baritone and euphonium players.
Today, there are more than 190 Tuba Christmas concerts, all produced with support from the Harvey Phillips Foundation. Erie's concert is staged at Penn State Behrend; this year's performance will be held Saturday, Dec. 11, at the Junker Center. The "Fum, Fum, Fum" begins at noon.
Tuba Christmas twists tradition in one other way: Admission is free, but the musicians have to pay. Registration, which begins at 11:15 a.m., is $10.
It's a makeshift orchestra, but many of the players return every year. One drives up from South Carolina.
They come for the songs — "O Christmas Tree," "Joy to the World," and "God Rest Ye Merry, Gentlemen" are in this year's repertoire — but also for fellowship.
"Low-brass players tend to have a good sense of humor and a real love of what they do," Viebranz said. "There's a real camaraderie there."
Contact
Robb Frederick
Assistant director, news and information, Penn State Behrend