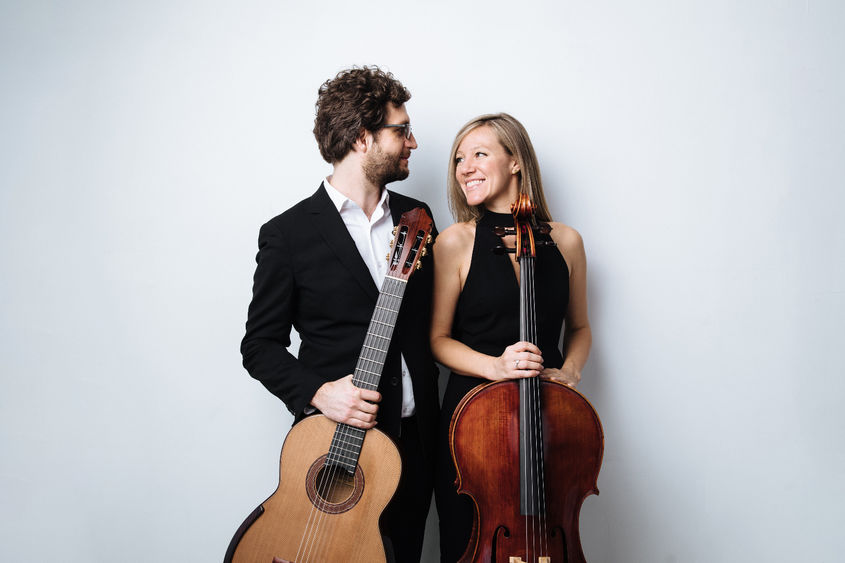 The cellist Laura Metcalf performed at Penn State Behrend in 2019 as part of Sybarite5, a classical mashup that put a millennial twist on songs by David Bowie, Radiohead and Andy Akiho. She returns Feb. 8 as part of a duo – an on-stage partnership with her husband, the guitarist Rupert Boyd – but with the same rangy repertoire: On this tour, they're performing songs by Bach and Beyonce.
The performance, the first of three spring concerts for Music at Noon: The Logan Series, is open to the public at no charge. The music will begin at noon in McGarvey Commons.
Metcalf and Boyd tour as Boyd Meets Girl. "They play like one, with a harmony of purpose as sure as their intonation," Gramophone wrote of their debut album, which reached No. 3 on the Billboard Traditional Classics chart. The duo has performed in India, Nepal and New Zealand, and in every state and territory in Boyd's native Australia.
The couple also serve as artistic directors for the Sunday morning concert series GatherNYC.
Two additional Music at Noon concerts will follow:
March 24: Okaidja Afroso Trio
Born in Kokrobite, a fishing village in western Ghana, Okaidja Afroso taught himself to play the guitar. His performances incorporate traditional Ga fetish dances and musical influences from across the African Diaspora. His 2017 album, "The Palm Wine Sea," led to a commission from the Portland Repertory Theatre to rearrange the folk gospel song "Children Go Where I Send Thee."
April 7: Harlem Quartet
The Grammy Award-winning Harlem Quartet celebrates and encourages diversity in classical music by showcasing works by minority composers. The group has been featured on CNN, NBC's "Today" show and at Carnegie Hall. In 2009, the quartet performed for President Obama and First Lady Michelle Obama at the White House.
Music at Noon: The Logan Series was founded by Mrs. Kay Logan in 1989 and receives major support from the Kay Logan Trust. Additional funding is provided by the Penn State Behrend Student Activity Fee. Music at Noon receives state arts funding support through a grant from the Pennsylvania Council on the Arts, a state agency funded by the commonwealth of Pennsylvania, and the National Endowment for the Arts, a federal agency. Additional support is provided in part from an Erie Arts & Culture Project grant, made possible by community contributions to the Combined Arts & Cultural Campaign and the Erie Arts Endowment.
To learn more about Music at Noon, contact series director Gary Viebranz at 814-898-6289 or [email protected]. To subscribe to Music at Noon Notes, an online guide to the series, visit musicatnoon.wordpress.com.
Contact
Robb Frederick
Assistant director, news and information, Penn State Behrend