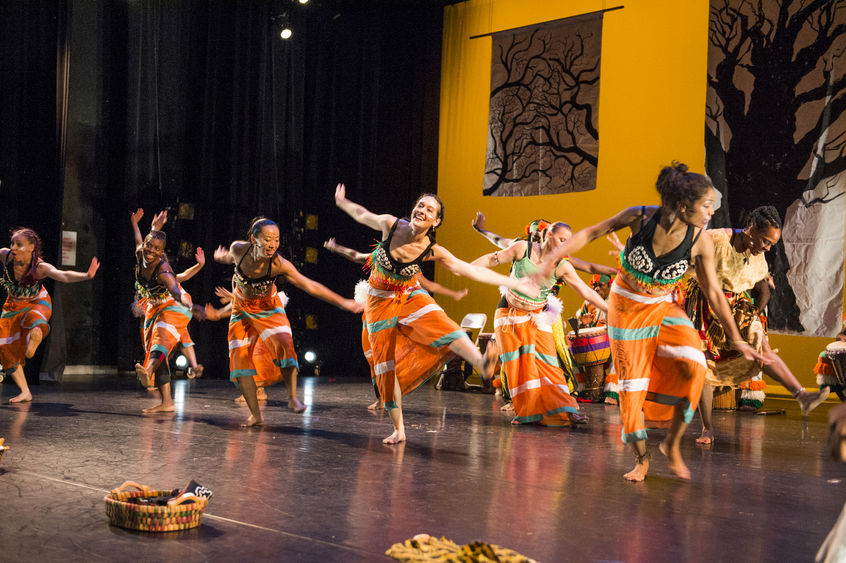 ERIE, Pa. — In the Mahou language, the word kotchegna means "messenger." It's a good fit for the dancer and choreographer Vado Diomande, the founder of the Kotchegna Dance Company, which will perform at Penn State Behrend on Wednesday, Feb. 16.
Diomande was raised in the stilt-dancing tradition of the Mahou, in northwest Ivory Coast. He was recruited by the National Ballet at age 14 and built a repertoire of more than 60 ethnic dances — high-energy, call-and-response celebrations of marriage, fertility, harvests and mythic heroes.
His dancers often are masked, costumed as spirits or totem animals. They move to insistent drumbeats: The eight-member Kotchegna Dance Company performs with djembe, a high-pitched hand drum, and doundoun, a barrel drum that is often struck with a wooden club.
"The best aspect is the drumming," The New York Times wrote after a Kotchegna performance at Lincoln Center. "Nonstop, high-speed, feverishly intricate rhythms and cross-rhythms from a team of drummers who know countless ways to subdivide a beat and make it jump."
Diomande's visit to Penn State Behrend continues the Rhythms of Life Series. The performance, which begins at noon in Bruno's Café, is open to the public.
Two more performances will continue the series this semester:
On March 17, the Steel City Rovers will perform a blend of Celtic bluegrass, folk and roots music.
On April 21, the Boilermaker Jazz Band will perform American jazz and swing music.
The Rhythms of Life Series began in 2002 and features an array of cultural performers from all regions of the world. The concerts are generally scheduled at mealtimes, and in environments where students and others can be exposed to new music without actively seeking it out.
"It's great when a student comes up to me and says, 'What kind of music was that? I have never heard anything like that before,'" said Andy Herrera, director of educational equity and diversity programs at Behrend, who curates the series. "It is out there for everybody to learn from."
To learn more about the series, visit the Rhythms of Life webpage.
Contact
Robb Frederick
Assistant director, news and information, Penn State Behrend