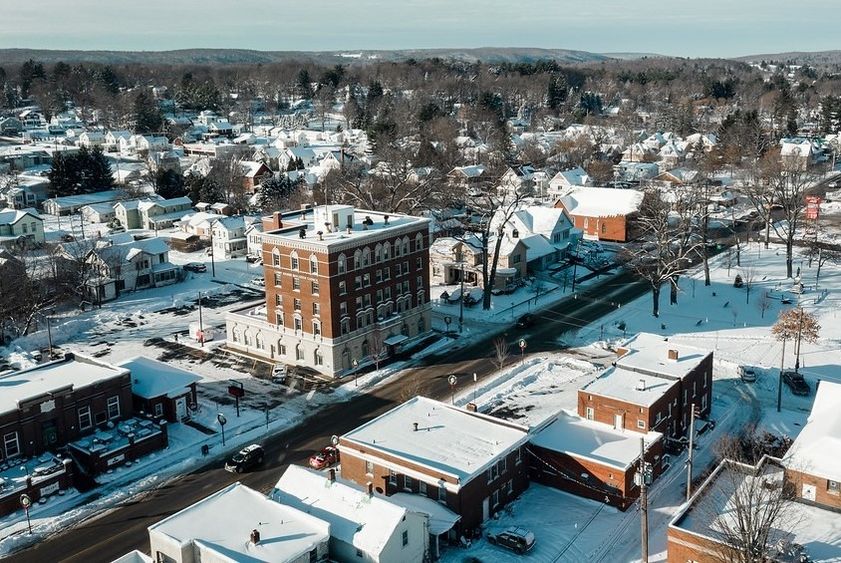 ERIE, Pa. — Don't know the difference between a bit and a byte?
New certificate courses developed by Penn State Behrend's Office of Community and Workforce Programs are increasing digital fluency in the Corry, Pennsylvania, area, where $500,000 in grants and tax credit donations are funding the first stages of a comprehensive fiber optic network.
The courses, which introduce new users to email, Microsoft Word, LinkedIn, and job-search and networking platforms, are offered through a partnership with the Corry Higher Education Council. A $44,000 grant from the Pennsylvania Department of Labor and Industry is funding the initiative.
The classes are free and open to anyone. Much of the course content is structured for older adults: Twenty percent of Corry's residents are 65 or older.
The first courses, which began in August, included internet basics, internet safety and digital media literacy. New courses began in January.
"Penn State Behrend has had a long relationship with the Corry Higher Education Council," said Michelle Hartmann, director of community and workforce programs at the college. "This partnership enables us to provide a foundation for digital literacy as connectivity continues to advance in Corry."
The courses support investment in digital infrastructure in Corry, where a new fiber network brought free wi-fi to the downtown business district in late 2021. That effort, led by Impact Corry, a community redevelopment entity, was designed to better connect Corry residents to telemedicine services, online education and business opportunities.
The average speed of a U.S. broadband internet connection is 100 Mbps, according to the Federal Communications Commission. In Corry, it's just 25/3 Mbps — the slowest speed that is still considered broadband.
Those slower connections challenged Corry residents during the COVID-19 pandemic, when schools and businesses moved online. More than 40% of Corry households were unable to connect to the internet.
"Prior to the implementation of fiber optics infrastructure, residents and businesses in Corry experienced broadband standards that were far below what they needed to work from home, receive telemedicine or access online educational programming," Hartmann said. "Now that they have that platform, it's time to build the community's digital literacy."
The classes are structured as "short burst" learning, with time to practice in each digital platform. Staff at the Corry Higher Education Council can help students between class sessions, working in a lab with 10 computer workstations.
To learn more about the classes, or to register, call 814-898-6103 or send email to [email protected].
"As Impact Corry continues to expand its fiber optic network throughout the district, it is absolutely critical that we provide training in the basic digital literacy skills that are necessary to navigate and thrive in a digital world," said Brody Howard, executive director of the Corry Higher Education Council. "This training program serves as a bridge to connect individuals to digital fundamentals, job seeking, citizenship and navigation — all of which are foundational pillars in the age of technology."
Contact
Robb Frederick
Assistant director, news and information, Penn State Behrend