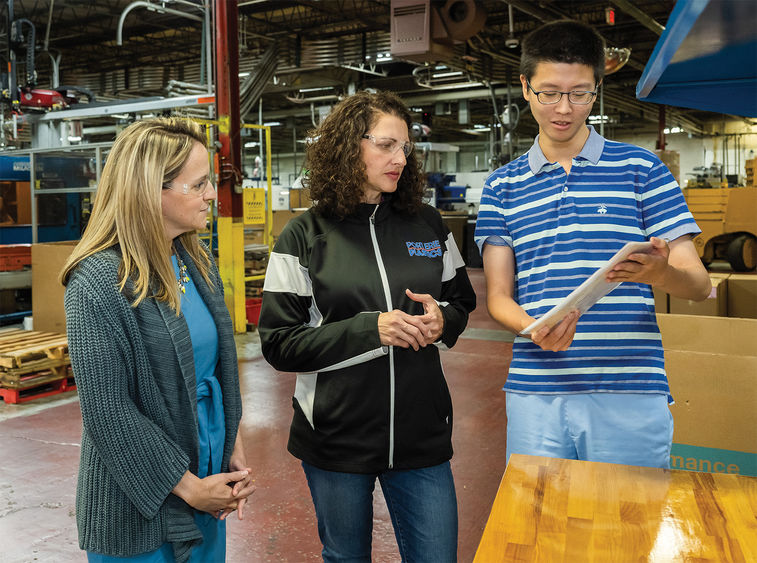 ERIE, Pa. — A team of Penn State Behrend students has developed multilingual safety signage for Port Erie Plastics, a Harborcreek Township injection-molding company that employs a diverse workforce, including new Americans. The signs include safety checklists, exit markers and directional signage, with text in nine languages.
The project started with Ashley Yochim, associate teaching professor of English. For her doctoral dissertation, she analyzed the linguistic environment of Erie. She found that public signage that only used English was an obstacle for immigrants and refugees as they assimilated to life in Erie.
"Erie is a refugee resettlement location," Yochim said. "The changes I have seen in the signage over the years is an interesting dynamic of that increasing population."
Yochim discussed her research during a talk at Gannon University. That led students at Gannon to create more inclusive, multilingual signage for their campus. The project led to news coverage, which drew the attention of Heather Evans, the human resources manager at Port Erie Plastics.
"We are always looking for ways to engage our team and create a strong sense of belonging," Evans said. "We believe that our diverse workforce makes us stronger, and it also makes this a fun place to work."
Evans also saw a need for clear and accessible signage that promotes safety, including signs that direct employees to fire extinguishers and emergency exits.
"There was a need for us to better communicate with our team," she said.
The first multilingual signs the company installed featured a daily safety checklist printed in nine languages. The signs are posted at every workstation.
"It is a great way to start off the workday with the right mindset and safety reminders," Evans said.
A group of Behrend students, led by Yochim, translated signs into Arabic, Nepali, Swahili, Vietnamese and traditional and simplified Chinese. Gannon students provided Spanish translations.
Kunyu Pan, a sophomore at Behrend, translated signs into traditional and simplified Chinese.
"I think it is important to make sure everyone can understand all signage in a factory, because misunderstanding can lead to serious injuries," Pan said.
Grace Mumo, a sophomore who moved to the United States from Kenya three years ago, translated signs into Swahili, a language she learned as a child.
"Having multiple languages on signs shows that businesses appreciate the diversity we have in the world," she said.
The Behrend students volunteered for the project. They saw it as a way to contribute to the community they now call home, Yochim said.
"I think sometimes our international students and those who speak other languages fluently feel their multilingualism is not appreciated in our society," she said. "They bring with them such a great skill set, and this project was a wonderful way to demonstrate how valuable multilingualism is, and how it benefits the community."
Contact
Robb Frederick
Assistant director, news and information, Penn State Behrend