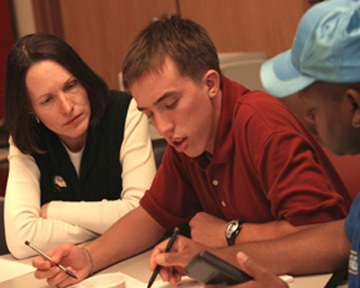 Tutoring Updates
NO TUTORING will be available during fall break from Saturday, November 21–Sunday, November 29. Tutoring will resume on Monday, November 30, and will continue until the last day of classes on Friday, December 11.
NO TUTORING will be available during finals week.
To view all available tutoring options, visit the online scheduler, TutorTrac. TutorTrac instructions are available to guide you. If you have any questions, contact [email protected].
PLEASE NOTE: If you have an online appointment, the Zoom room number will appear on the TutorTrac main menu page 15 minutes before your appointment.
Peer tutoring will be offered online and there will be limited tutoring offered in-person on campus, following all safety precautions. 
Other Services
Email [email protected] to arrange an appointment for information and advising about: Graduate School Preparation; External Scholarships and Fellowships; and/or Study Abroad.
The Learning Resource Center provides services at every stage of your college career to support you in achieving your goals—getting a great GPA, studying abroad, preparing for graduate school, or applying for national fellowships and scholarships. Your success is ours, too!
We offer tutoring for most first-year and sophomore level courses, along with some upper level courses. Exam prep and weekly study sessions also are offered for several courses.
Contact the Learning Resource Center for more information.