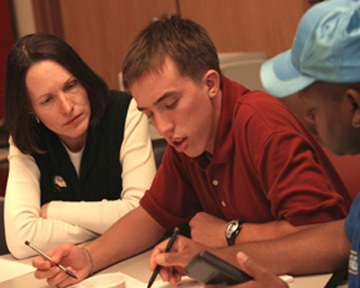 Tutoring Updates
View Drop-In hours or make an appointment for tutoring in person or on Zoom at TutorTrac. New to TutorTrac? See instructions.
In-person appointments are held on the 2nd floor of the Lilley Library. Drop-in tutoring is offered only via Zoom. If you have any questions, contact

[email protected]

.
PLEASE NOTE: If you have a Zoom appointment, the link will appear on TutorTrac's main menu 15 minutes before your appointment.
Other Services
Email [email protected] to arrange an appointment for information and advising about: Graduate School Preparation; External Scholarships and Fellowships; and/or Study Abroad.
The Learning Resource Center provides services at every stage of your college career to help you achieve your goals—getting a great GPA, studying abroad, preparing for graduate school, or applying for national fellowships and scholarships. Your success is ours, too!
We offer tutoring for most first-year and sophomore-level courses, along with some upper-level courses. Exam prep and weekly study sessions also are offered for several courses.
Contact the Learning Resource Center for more information.