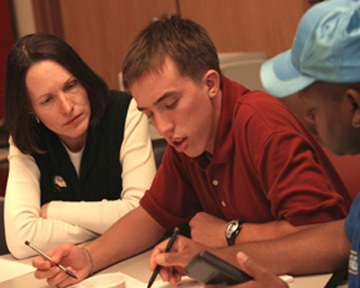 Tutoring Updates
Tutoring by appointment is available in person or on Zoom. The location for in-person tutoring is the 2nd floor of the Lilley Library. Drop-in tutoring is available only via Zoom.
To view all available tutoring options, visit the online scheduler, TutorTrac. TutorTrac instructions are available to guide you. If you have any questions, contact [email protected].
PLEASE NOTE: If you have an online appointment, the Zoom room number will appear on the TutorTrac main menu page 15 minutes before your appointment.
Other Services
Email [email protected] to arrange an appointment for information and advising about: Graduate School Preparation; External Scholarships and Fellowships; and/or Study Abroad.
The Learning Resource Center provides services at every stage of your college career to support you in achieving your goals—getting a great GPA, studying abroad, preparing for graduate school, or applying for national fellowships and scholarships. Your success is ours, too!
We offer tutoring for most first-year and sophomore-level courses, along with some upper-level courses. Exam prep and weekly study sessions also are offered for several courses.
Contact the Learning Resource Center for more information.