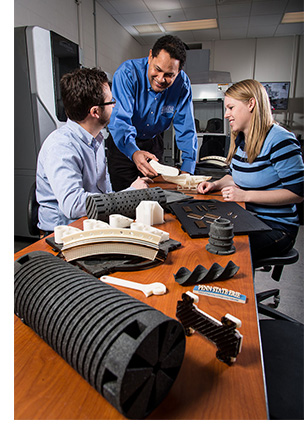 Manufacturing is an important component of domestic and worldwide economic activity. Demand is high for manufacturing managers who can communicate effectively, understand both management and engineering issues, and employ Lean Manufacturing and Six Sigma methods. The MMM degree can prepare you for success meeting the needs of industry.
The degree is jointly offered by Penn State Behrend's School of Engineering and the Black School of Business, which are uniquely co-located in the college's 160,000-square-foot Jack Burke Research and Economic Development Center. This facility provides a combined learning environment where faculty members have significant business and industry experience, and it advances the college's open-lab learning philosophy that brings business and industry together with students and faculty members to pursue research and development initiatives. Erie, the heart of manufacturing in northwestern Pennsylvania, is the ideal location for this educational offering.
The manufacturing industry depends on successful teams in plant operations around the globe. Because of this, MMM students are organized into interdisciplinary teams working on project assignments across the curriculum. Team selections are made using criteria that results in a mix of student backgrounds, work experience, culture, and gender. Students receive extensive team training, participate in team-building exercises, and benefit from individualized leadership coaching.
This 32-credit program can be pursued part-time or full-time and is delivered primarily online; students make one or two Friday-Sunday campus visits per semester plus attend one three-day summer residency for plant visits. The degree can be completed in twenty-two months of part-time study.
Read Business Magazine's Spotlight feature on the MMM.
Contact
Master of Manufacturing Management (MMM)
School of Engineering
242 Burke Center
5101 Jordan Road
Erie, PA 16563-1701
814-898-6153
[email protected]