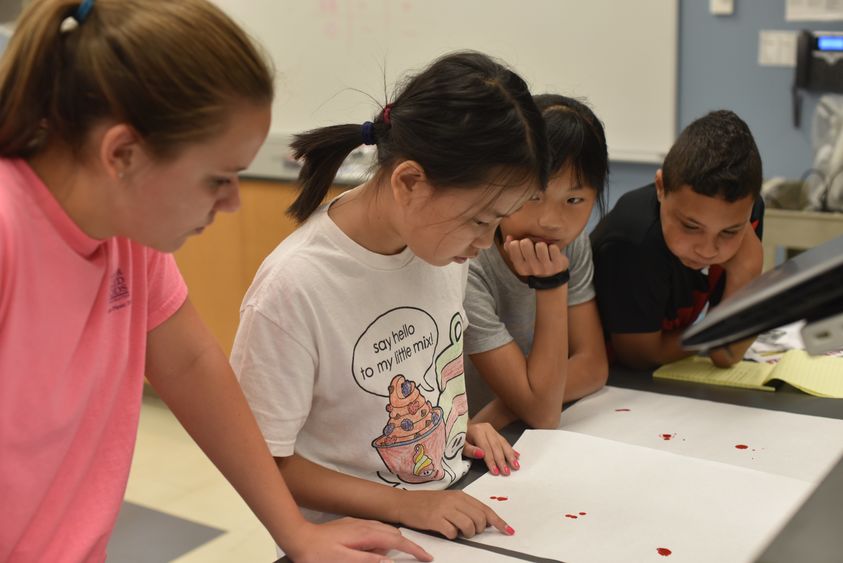 ERIE, Pa. — They opened the door and there it lay in the middle of the room: the body of a murdered woman.
After a collection of gasps, the group quickly went silent.
"There was blood splattered around her and in some spots of the room," said Morgan Farrell, who will soon enter the ninth grade at Seneca High School. "It was a pretty big eye-opener."
Like any good detectives, the students quickly went to work. They snapped photos and assessed the crime scene, procuring fingerprints along the way.
The good news is that Farrell and her more than 20 classmates were not investigating a real crime scene. The woman on the floor was not dead, but just a mannequin. The blood on her body was just dye. The students were taking part in "CSI-Crime Scene Investigations," one of more than 100 College for Kids courses held at Penn State Erie, The Behrend College, this summer. This year marked the 24th year for the summer enrichment program, and it was the largest yet: A total of 1,381 children between the ages of 6 and 14 participated.
The CSI class was unique in that in focused on the students investigating a murder case from start to finish.
"What I wanted to do was teach them all of the different parts of CSI. So they collected background information, went through the steps of dusting for prints and did all the steps of investigating a crime scene," said Jerry Fenner, the course instructor who is also a teacher in the Iroquois School District. "At the end of the week, they have to answer four questions: Who did it? What happened? What's the evidence that they have? And do they have enough evidence to convict?"
In this scenario, the victim was a woman named Suzie. When her body was found, a rubber band, soda can, CD and ID tag were all close to her.
All of those items were important to the investigation, but Conor Russell, an eighth-grade student at Saint George School, said another piece of evidence was even more significant.
"In the testimony, the one suspect, Sam, had no alibi," Russell said. "He also had a history of being attracted to her and was known as a loner."
Was Sam ultimately the guilty party?
That question remains unanswered. At the end of the class, the students were faced with the reality that there might just not be enough evidence to convict a suspect.
"They've done a really good job of figuring these things out and learning everything that goes into a criminal investigation," Fenner said. "They really enjoyed trying to solve the crime, and they now know how much goes into this type of thing."
Contact
Steve Orbanek
Marketing Communications Coordinator, Penn State Erie, The Behrend College