Penn State Behrend takes first place in International Supermileage Challenge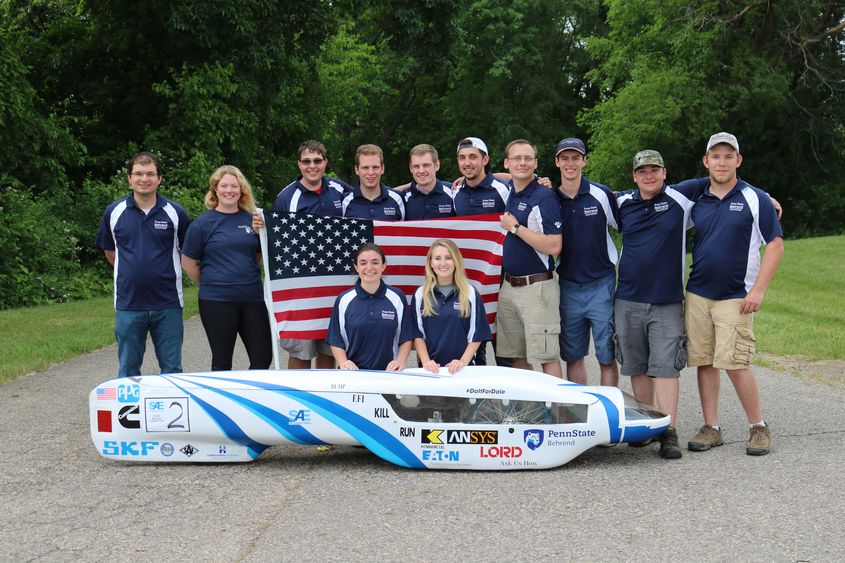 Every year, car manufacturers meticulously work to improve upon the previous year's vehicle models. The Society of Automotive Engineers (SAE) Club at Penn State Behrend takes the same approach.
"Last year, we decided to change over to a fuel-injected engine, so we really focused on refining that for this year," said Scott Delaney, a Clarion native and president of the SAE Club. "We were fortunate that ANSYS sponsored us and provided us with their engineering simulation and 3D design software for a year. That really made a difference as it allowed us to simulate the operation of the engine where we could see the inside of the engine during its cycle. We probably spent between 1,500 to 3,000 hours just working on the engine."
The increased focus paid off. Behrend's SAE Club team finished first in this year's International Supermileage Challenge, held June 7-8 at the Eaton Corporation's Marshall Proving Grounds test track in Michigan.
The competition challenges teams to create vehicles that squeeze the most mileage out of a single tank of high-octane gasoline. The Behrend vehicle traveled 3,013 miles on one gallon of gas, which was a new United States record. The team also placed second in the Design Report Sub-Competition.
"It was such a rewarding feeling," said Aleksey Checkeye, a junior mechanical engineering major and the driver of the vehicle. "We had been wanting to break 3,000 miles for a couple years, and it was just great to be able to do it with this group."
One reason for the team's success was the fact that they did not have to build a new car from scratch.
"It's the same body that we used last year, and you could not possibly make it any smaller than it is, which saved us time," Checkeye said.
The vehicle's lightweight, aerodynamic design helps it with regard to fuel efficiency, but it does not make for the roomiest of vehicles. That's why Checkeye's role is so important: She might be the only team member capable of operating the vehicle.
"The car was basically designed for Aleksey," said team member Gary Schultz, who recently graduated from Behrend with a mechanical engineering degree.
While driving, Checkeye and the team use a "burn and coast" method. At the start of the competition, Checkeye starts the engine, accelerates for a bit and then turns the engine off to coast the remainder of the course. It's an intentional attempt at fuel conservation.
That method, coupled with the significant work put into fine-tuning the engine, proved to be the difference in this year's competition.
The team is not resting on its laurels, however.
"We're already thinking of ways we can change the engine for next year," Checkeye said. "Who knows? Maybe we can get up to 3,500 miles per gallon or even more."
Contact
Steve Orbanek
Marketing Communications Coordinator, Penn State Erie, The Behrend College