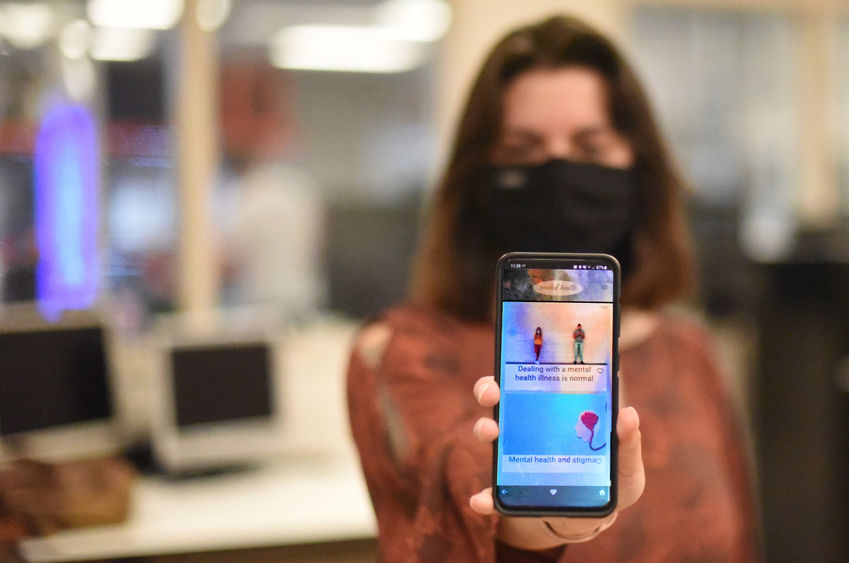 ERIE, Pa. — A team of Penn State Behrend students has developed a mental health and mindfulness app that helps users track their emotions and suggests activities and resources that can help with pandemic-related stress and depression.
The app, called Serene, is available as a free download at the Google Play store. It was developed with funding from the Erie County Gaming Revenue Authority (ECGRA).
Serene features support videos that introduce users to meditation, guided breathing and progressive muscle relaxation, among other topics. The app offers more than 250 activity prompts and provides links to Erie County mental-health support services, including crisis centers. It also links to national emergency hotlines.
"The need for mental-health support exceeds the resources that are available in almost every community," said Chris Shelton, an assistant professor of clinical psychology at Behrend and director of the college's Virtual/Augmented Reality Lab. "That was true before the pandemic. Over the last year, however, the need has just skyrocketed. If you need help, it can be really difficult to get in and see somebody."
Serene was not designed to be used as a formal diagnostic tool. The app can point to lingering shifts in mood, however, when users open it, they are asked to rate the degree to which they feel anxious, angry, bored or lonely.
The activity prompts, which can all be completed in a physically distanced environment, are meant to cut through the inertia that often accompanies boredom or depression.
"When people are in distress, it can be difficult for them to think clearly," said Antigoni Kotsiou, the student who developed much of the app's content, "so we made it as simple as possible: 'Try a new recipe.' 'Take a walk in a different neighborhood.' 'Call your grandparents.'
"Sometimes, that's enough," she said.
"Individuals who are suffering from depressive thoughts or feelings tend to self-isolate," Shelton said. "They pull back from the things they used to find pleasure in. Getting them to do even a small activity is a win.
"A lot of these activities are obvious," he said. "It's the variety of options that is important, because when you successfully add a new activity, that makes you feel good about yourself."
The content and design of the Serene app was developed entirely in Behrend's Open Lab environment. The college's Innovation Commons — a hub of the Northwest Pennsylvania Innovation Beehive Network — added app development to its services in 2020.
Kotsiou, a graduate student in Behrend's Master of Applied Clinical Psychology program, worked with Shelton to create the videos and other content. Marc Maromonte, a senior from New Kensington, handled the coding. Erica Juriasingani, a senior from Indian Mound, Tennessee, led the user-experience research and design. She worked with Lisa Jo Elliott, an assistant teaching professor of engineering psychology.
Elliott and Jacob Marsh, the college's industry relations coordinator, managed the overall project, which began in April 2020. Marsh also served as the liaison to ECGRA.
"We started this because we were talking a lot about the importance of mental health, particularly during the quarantine period, when people were forced to isolate," Elliott said. "That absolutely had an impact on people's health and well-being."
She hopes the app can still be a useful tool once the pandemic has ended.
"Life can be challenging," she said, "and we all experience personal difficulties at some point."
For Kotsiou, who graduated in December and now works as a mobile therapist, the project was personal.
"I've had friends and family who used mental-health applications in their everyday life," she said. "I've seen how effective those tools can be. To be part of a team that created a similar tool that is specific to Erie, and that maybe makes someone's day a little bit better, and their life a little easier … that's something that makes me really proud."
Contact
Robb Frederick
Assistant director, news and information, Penn State Behrend