A $3 million gift, matched by Penn State, will attract and support new businesses in Erie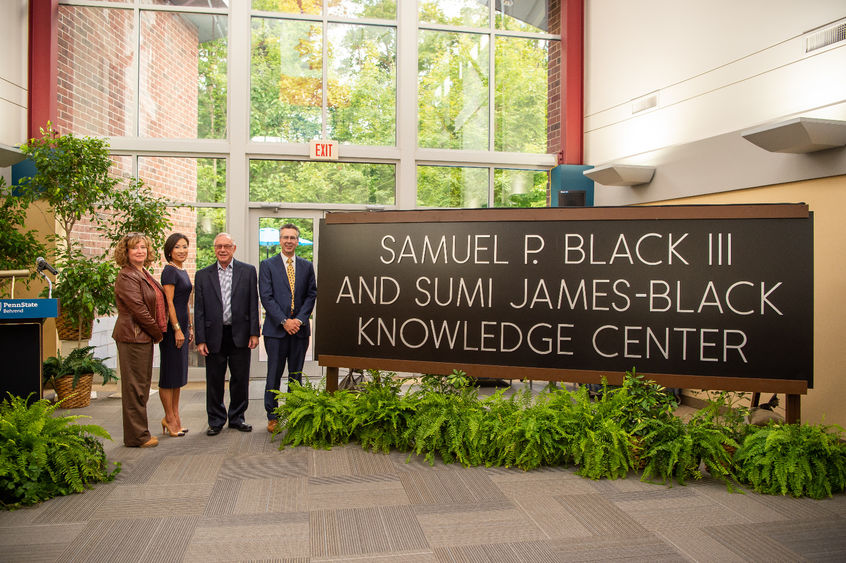 ERIE, Pa. — A $3 million gift from Erie businessman Samuel P. "Pat" Black III and his daughter, Sumi James-Black, will amplify the role of Penn State Behrend's Knowledge Park as an engine for economic growth in northwestern Pennsylvania.
A one-to-one University match will double the gift, generating a $6 million investment in Knowledge Park. The match was provided through Penn State's Economic Development Matching Program, which leverages University funds for select initiatives that will drive job and business creation in Pennsylvania.
At the announcement of the gift, on Sept. 9, Knowledge Center, a shared facility utilized by all tenant companies in the park, was renamed the Samuel P. Black III and Sumi James-Black Knowledge Center.
"The Black family's quiet but consistent support of fledgling businesses and forward-thinking entrepreneurs is an investment in the future of Erie," Penn State Behrend Chancellor Ralph Ford said. "We are fortunate that their vision aligns with the mission of Knowledge Park, the region's premier research environment and a fundamental component of Penn State Behrend's Open Lab model of innovation."
The Open Lab approach matches students and faculty experts with partners in business, industry and community organizations, who work together in teams to advance technologies and refine products and services. Much of that collaboration occurs in Behrend's Knowledge Park, where 22 companies employ more than 500 people.
Many of those companies moved to Knowledge Park to gain better access to Behrend students, faculty and facilities. In 2018, for example, HERO BX, a biodiesel company founded by Pat Black, opened a $1 million research lab in the Advanced Manufacturing and Innovation Center, where Behrend students are helping the company's chemists explore new uses for biodiesel feedstocks.
The Black family's Erie Management Group includes a broad portfolio of forward-leaning companies, from HERO BX to Prism Glass Recycling to Calypso Enterprises. The family's gift to Penn State Behrend will leverage the college's Open Lab strategy and expand the economic potential of Knowledge Park.
"Knowledge Park provides the meeting place between the worlds of academia and industry," offered Pat Black, "where a unified approach, relationship building and access to human capital are equally important development tools as financial incentives. Our intent with this investment is to build on the success of the park and generate broader economic momentum that benefits the entire region."
The funding will bolster the park's efforts in three areas:
Business attraction, in part through the purchase of specialized equipment that advances a company's research strategy and the college's educational mission. Penn State Behrend already provides access to an environmental scanning electron microscope and an atomic-force microscopy lab.
Business retention, with incentives for engaging with Behrend faculty and student researchers – including matching funds for student research projects. Each corporate tenant could receive annual funding to support research.
Future-focused initiatives, such as "smart park" features and Industry 4.0 automation and controls. Capital projects, testbeds and the recruitment of new technical experts can position companies in Knowledge Park for the next decade of business innovation.
The Black family's gift will advance "A Greater Penn State for 21st Century Excellence," a focused campaign that seeks to elevate Penn State's position as a leading public university in a world defined by rapid change and global connections. With the support of alumni and friends, "A Greater Penn State" seeks to fulfill the three key imperatives of a 21st-century public university: keeping the doors to higher education open to hardworking students regardless of financial well-being; creating transformative experiences that go beyond the classroom; and impacting the world by serving communities and fueling discovery, innovation and entrepreneurship.
Gifts to support select economic development initiatives across the commonwealth are a priority of the campaign, and two opportunities to leverage University funds – the LaunchBox Matching Program and the Economic Development Matching Program – are available through the end of "A Greater Penn State" on June 30, 2022, or until the pool of support is exhausted. To learn more about how to make a gift and secure a match, contact Heather Winfield at [email protected]. Information about the campaign is available at greaterpennstate.psu.edu.
Contact
Robb Frederick
Assistant director, news and information, Penn State Behrend