Catholic Campus Ministry (CCM)
Our purpose of the Catholic Campus Ministry is to communicate the life-changing message of Jesus Christ as it comes to us through the teaching, life, and worship of the Catholic Church. All are offered full access to the Catholic heritage of liturgy, doctrine, prayer, pastoral care, education, ecumenism, social action, and community life. With the help of the Holy Spirit, we assist one another to hear the Word of God, to worship, to grow in personal holiness, to form and abide by a Christian conscience, to discern our vocation in life, and to exercise Christian leadership. By fostering an open atmosphere for conversation and exploration as well as support for the mission of higher education at Behrend, students and staff find a well-rounded experience of the Catholic community at worship, work, and play.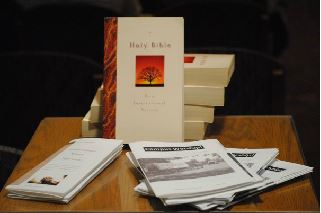 For more information about CCM, check out CCM's website!
Protestant Campus Ministry (PCM)
Protestant Campus Ministry (PCM) is an interdenominational Christian organization dedicated to the spiritual and intellectual development of the Behrend Community.

Our mission in ministry is to present Christ's presence to the academic community through listening, caring and sharing, and in doing so to involve students of Penn State Behrend, as well as lay people and clergy of many Protestant traditions.

There is something for everyone in PCM, including:
on-campus worship service
bible study & small groups
lecture programs
community service projects
fellowship
Learn more about us by visiting PCM's Facebook group!