Civic and Community Engagement at Penn State Behrend connects students to the community and to the world. Students evolve in their role as citizens and develop the knowledge, skills, values, and motivation to be active participants in their communities through experiences such as:
Explore our website to learn more about how Penn State Behrend students, faculty, and staff engage in service, volunteering, and philanthropy in our local community and beyond. 
If you're interested in starting a service project or program and need support, please contact us at psbservice@psu.edu.
Benefits of Volunteering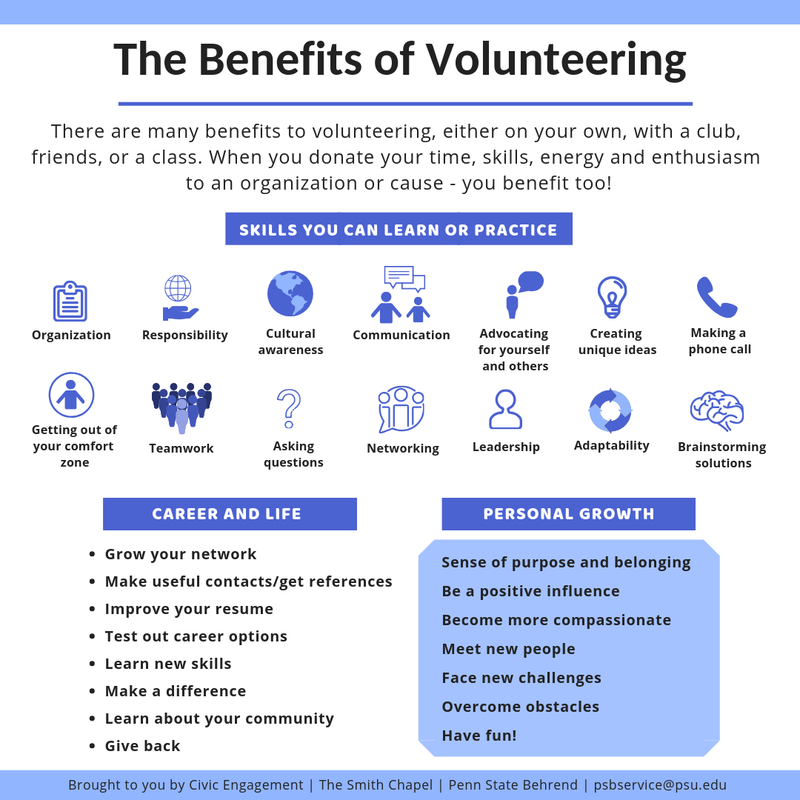 We strongly encourage you to reflect on your volunteering and service experiences. Feel free to reach out to us if you'd like resources on how to reflect by yourself or with a group, or if you'd like to learn how to lead a reflection, or simply want to talk through your experience with us. 
Local Service Opportunities
For a list of current local service opportunities both on and off-campus, see our latest Spotlight on Service Newsletter, catered to Penn State Behrend students. You can always follow Civic and Community Engagement on Instagram (@psbservice) to see what we feature, and see what's happening on our Civic and Community Engagement BehrendSync page. For even more opportunities, visit Get Connected Erie.
Virtual and Long-term Service Opportunities
See our Service Opportunities page to learn how you can volunteer virtually from anywhere by using your phone, tablet, or computer. Or learn about long-term service opportunities like AmeriCorps and the Peace Corps (and more!). If you ever have questions about these opportunities, come see us in The Smith Chapel, or email us at psbservice@psu.edu.
Resources
For resources and guides (e.g. "Service Reflection Guide" or "Fundraising Ideas"), please see the documents on our Civic and Community Engagement BehrendSync page.