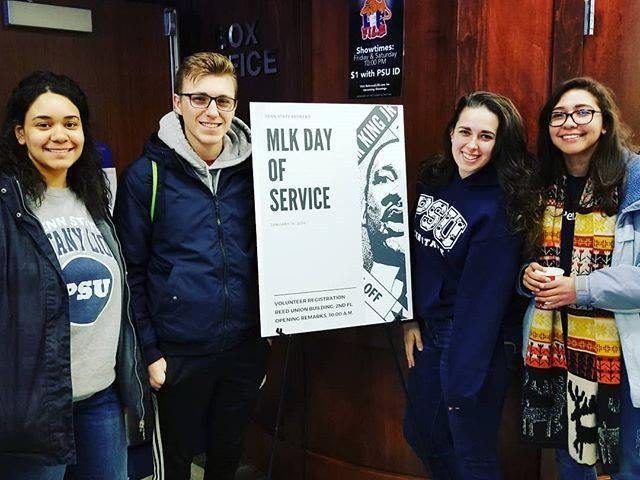 All students have opportunities throughout the year to participate in University-sponsored civic and community engagement activities.
Stay Connected
Look out for our "Spotlight on Service" newsletter, which is sent out to all Behrend students with information about on-campus and off-campus service opportunities and how to get involved.
Visit the Civic and Community Engagement site on BehrendSync to find service opportunities sponsored by our office. And follow us on Instagram!
Annual Events
MLK Day of Service
Monday, January 17, 2022
Registration is required.
During the MLK Day of Service, students have the opportunity to volunteer in teams on local service projects in honor of Dr. Martin Luther King Jr. While Penn State students have the national observance day off from classes, this event allows students to participate in a "day on" of service.
See coverage of our 2020 service day:
See coverage of our 2019 service day:
Alternative Spring Break
TBD
Service Site: See our Alternative Spring Break page for this year's details!
This week-long service trip offers participants (24 students and 4 trip advisers) a complete immersion into a community that may be very different from their own with the specific goal of making a positive, lasting impact on that community. This experience is designed to engage students on multiple levels, including personal development, group and team dynamics, and public service. Through the process of reflection and civil discourse, participants are challenged to grow as individuals and rethink previous assumptions about others and society as a whole.
Excellence in Leadership & Service Awards
April: TBD
Join us in this celebration of the outstanding achievements of Penn State Behrend's club and organizations and the individual leaders who contribute to our community.
Start with Service
Early August
Start with Service takes place during Welcome Week in August and is for both incoming and current students interested in getting involved in service-related opportunities.
Friday, early August
This event takes place on campus and involves a variety of hands-on projects that focus on helping different populations in Erie. Each project is sponsored by one of Behrend's student-led service organizations.
Saturday, early August
This event offers a variety of off-campus projects where you can meet new people, get to know the Erie community, and make an impact through volunteering.
Student Leadership & Service Fair
Early September
The Leadership and Service Fair is designed to promote on-campus leadership, volunteer, and civic engagement opportunities to new and current students. In addition, the Fair allows college departments and programs and local nonprofits a way to introduce themselves and their mission to Behrend students.
International Coastal Clean-up
Third Saturday of September
9:00 a.m.–12:00 p.m.
This annual volunteer event is part of a world-wide program to clean and protect our oceans and water sources. By participating in the International Coastal Cleanup, you can make a difference, joining millions of volunteers just like you, who love the environment and want to protect it. Transportation and supplies provided.
Hunger and Homelessness Awareness Week
Mid-November
During this week of awareness, Civic Engagement collaborates with numerous clubs, organizations, and departments across campus to host activities, events, service projects, and drives that benefit the community and broaden our understanding of the issue surrounding the theme of hunger and homelessness on a local, national, and international scale. Not only do we seek to raise awareness and educate on the issues surrounding hunger and homelessness, but we take action!
Dinner for Six
TBD
Dinner for Six is an annual celebration of the Behrend community. This special Behrend tradition began years ago, when many students stayed on campus during the Thanksgiving holiday. Faculty and staff invited these students into their homes to celebrate together. As our enrollment grew over the years it became more difficult to accommodate everyone and Dinner for Six's traditional Thanksgiving meal was born.
Hanging of the Greens
December: TBD
Wintergreen Gorge Cemetery
This annual event has taken place since December 1948, in honor of Ernst and Mary Behrend's son Warren, who tragically died on Dec. 19, 1929, while driving to South Carolina for a family holiday. Ernst, Mary, and Warren Behrend are interred at the chapel in the Wintergreen Gorge Cemetery, where they're remembered each year in a beautiful candlelit ceremony of remembrance, singing, and thankfulness to the family that made Penn State Erie, The Behrend College, possible. All faculty, staff, students, and Behrend community members are welcome to attend.