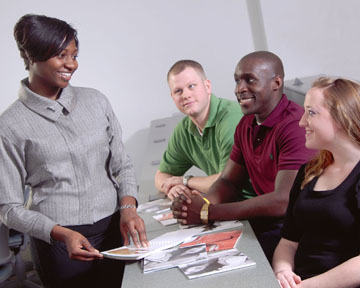 Career Services
Alumni can take advantage of several services to help them search for jobs, network with employers and other alumni, and more through the Academic and Career Planning Center.
Transcript Requests
Official college transcripts can be requested through the College Registrar
Reissue Diploma Requests
A diploma may be reissued by sending a form to the College Registrar.
Alumni Health Insurance
Several cost-effective medical and dental insurance options are offered through the Penn State Alumni Association.
Behrend B.E.S.T. Mentoring Program
B.E.S.T. (Behrend Excellent Student Transition) is a mentoring program that pairs first-year Penn State Behrend students from underrepresented groups or any other student who wishes to join the program with a current Behrend student and an alumnus/alumna. Peer mentors act as a guide to help new students transition to college life and alumni mentors guide and support students through networking and career opportunities. Mentors and mentees participating in the program are invited to social, cultural, and educational events planned by the Office of Educational Equity and Diversity Programs. They also meet informally and communicate via text messaging, emails, and social media. Apply to become a B.E.S.T. Alumni Mentor.
Free Library Access
This partnership between the Penn State Alumni Association and the University Libraries gives you access to many features of the Libraries' traditional and online resource materials you used as a student as well as a host of new additions. As a Penn State Alumni Association member, you also gain privileges that will allow you to use a selection of resources not available to the general public.
Pilot Job Shadowing Externship Program
Penn State Behrend is developing a job shadowing program and is seeking alumni who would be willing to host a Behrend student for a day-long externship. Our program will take place on a mutually convenient day during winter break. The job shadow program gives our interested sophomore students an opportunity to explore potential careers and gain exposure to the professional world. The Academic and Career Planning Center will match pre-selected students to alumni within specific majors, industries, or city locations.
Continuing Your Education or Corporate Trainings
Through our Office of Community and Workforce Programs, we provide corporate training and continuing education for businesses, ranging in everything from plastics processing to human resources and leadership. We assess the specific needs of a business and develop customized programs designed to help you achieve your business goals.
Visit Penn State Erie, The Behrend College, on LinkedIn.
Connect with other alumni and view career insights.