Fifty-five students attend Penn State Behrend event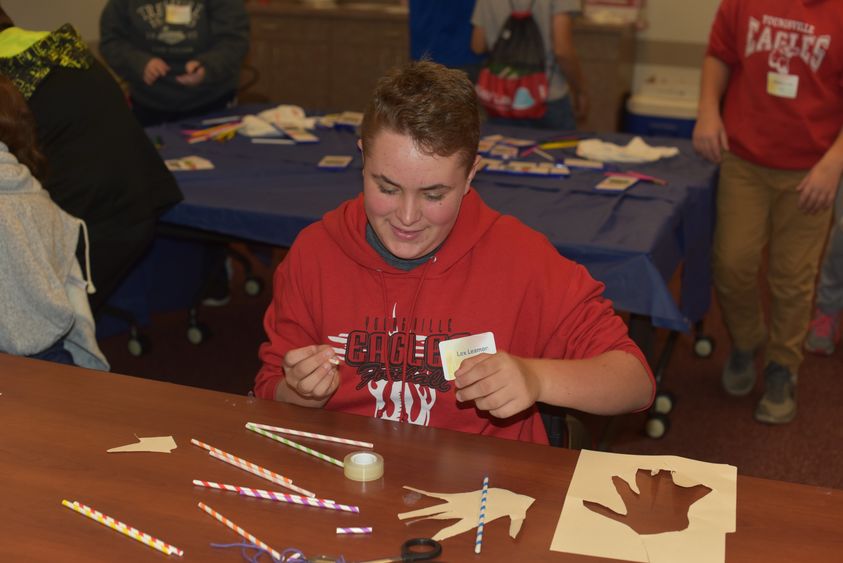 ERIE, Pa. — Lex Leamon carefully traces his hand on a piece of colored construction paper. He then grabs a pair of scissors to cut out his new drawing.
"I'm cutting this out, and it's going to show me how a prosthetic hand works," said Leamon, a seventh-grade student in the Youngsville School District. "I did not know you could do that with paper, but it will move and you can see the joints and everything."
Leamon was one of 55 seventh-graders from the Youngsville School District who attended 21st Century Kids, held Friday, Oct. 19, at Penn State Behrend. The program brings youth from rural populations to the college, allowing them to experience a college setting and participate in hands-on STEM workshops taught by Penn State Behrend faculty members and leaders from local STEM-focused businesses. The program has been held twice annually since the spring of 2007.
The mechanical-hand activity was led by employees at BASF, a German-based chemical company with offices in Erie. In the activity, participants use paper, plastic drinking straws and string to create a hand that illustrates all the finger tendons and allows them to move.
"It's showing all the ways in which your hand moves," said Isis Peet, also a seventh-grade student. "Also, if someone needs to have a hand replaced, this is kind of how they would do that."
The workshop was led by Lisa Dolecki, administrative operations coordinator for BASF. Her background is originally in counseling, which is why she loves to volunteer her time at STEM-related workshops for young people.
"You look at me, and my degree is in mental health counseling, but now, I work at a chemical plant," Dolecki said. "I want kids who are here today to know that you could work for a chemical company with any degree, and I'm proof of that. Half the battle is letting kids know what's out there and what's available."
For some students, 21st Century Kids marked their first time visiting a college campus. The experience resonated with Leamon, who could see himself back at Behrend or at another college in a few years.
"It's so big here, but I really like that," Leamon said. "It's fun, and we get to look around at everything, which is different from a regular day. I like spending time here."
Contact
Steve Orbanek
Marketing Communications Coordinator, Penn State Erie, The Behrend College