Olivia Coghe plans campus-wide arts and crafts festival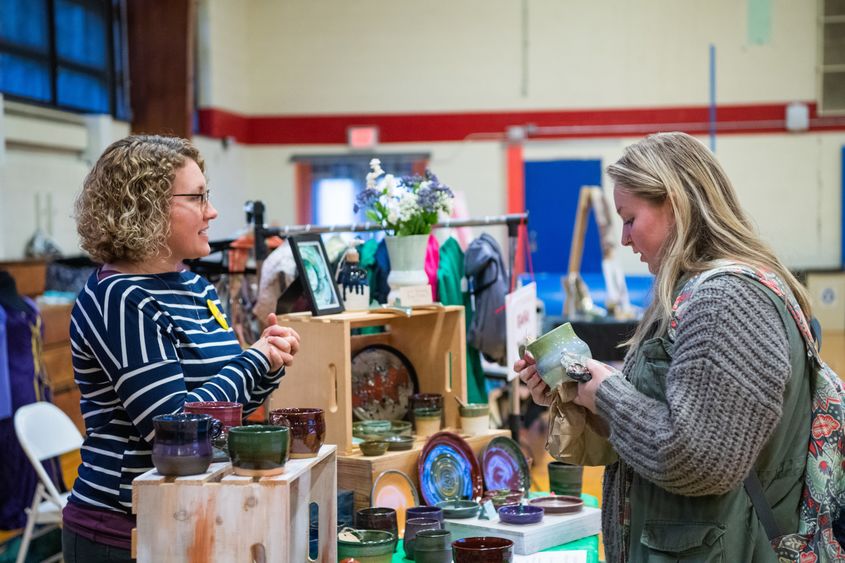 ERIE, Pa. — Olivia Coghe was well aware of the many ways she can use her Penn State Behrend arts administration degree. Public relations, development, marketing, grant writing — all are viable career options.
The Pittsburgh native had never given much thought to being an event planner, however. Until now.
For her senior capstone project, Coghe recently planned Artsapalooza, a one-day arts festival and craft show held at the college. The event, which was held April 26, featured more than 15 artist and artisan vendors, live musical performances and craft activities. It was free and open to the public.
"I'm from Pittsburgh, and the Three Rivers Art Festival is one of my favorite things, so I wanted to emulate that on a much smaller scale," said Coghe, who graduated in May with degrees in both arts administration and digital media, arts and technology. "That's how I got the idea of the different vendors and musical performers."
The senior capstone project is a requirement of Penn State Behrend's arts administration major. Community engagement is a core component of the program, which launched in 2012 and is one of few such undergraduate programs in the country. For the capstone project, students are charged with creating a student-led arts event where they must organize and execute all facets of the planning process, from concept to marketing, fundraising and execution. In addition to the capstone requirement, students complete an internship with an off-campus arts organization.
Capstone projects are intended to be ambitious undertakings, but Artsapalooza was on another level. With a timeframe of just a few months, Coghe became an army of one as she navigated the intricacies of planning a large-scale event.
Since she is not from the area, Coghe did not have direct ties to Erie artists. She had to resort to the 21st-century version of cold calling: messaging area artists' Facebook pages.
But getting an artist interested in attending the festival was only half the battle. Coghe then needed to get them approved through insurance. The logistical and marketing needs were also significant. Coghe needed to secure both outdoor and indoor rain locations, a tent and tables. She also needed to create signage, advertising, a floor layout and a social-media marketing plan.
"It was a little daunting, but I tried to make the process as easy as possible," she said. "I gave the artists my email and phone number, so they could call me if they had any questions. By just being available and being transparent, I think that really helped with that process, but there was a lot of learning along the way."
All in all, the event was a resounding success. Weather forced the festival to move from its planned location of the Reed Front Lawn to Erie Hall, but a few hundred attendees checked in throughout the day. Student music groups Dissonance and Tone-Acious also performed during the event.
"Olivia put in an immense amount of work during the planning process, which paid off with a great turnout and very satisfied vendors. One thing that made this event so special to me was the way that it connected Behrend with Erie's artistic community," said Matt Levy, associate professor of art history.
Vendors were equally impressed with Artsapalooza.
"As a locally-owned small business, we make it a priority to support other local events and businesses. Artsapalooza is the perfect example of both: a local event that is student led and organized. We enjoyed vending there and the experience of being in a college community that supports other local small businesses," said Tenise Greer-Monterio, owner of Dragonfly Lake Scents LLC.
For Coghe, the event represented the conclusion of months of hard work, which was very satisfying.
"You're always proud of a paper when you finish it, but when you see something real, live in front of you, that's on a different level," Coghe said. "I had never done anything like this before, so it was cool to see that I can pull it off."
The experience also has led Coghe to be even more open-minded with regard to her future.
"It definitely did open up event planning as a possibility for something I look for in a future job," she said. "I think I need like a month off at least before I do something like this again, but I really had a great time."
Contact
Steve Orbanek
Marketing Communications Coordinator, Penn State Erie, The Behrend College