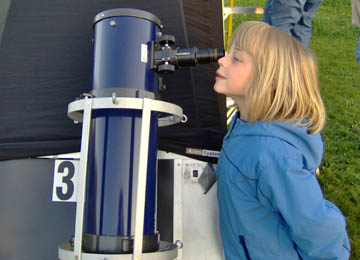 These presentations, which are free and open to the public, are intended for non-technical audiences, and generally consist of an hour-long PowerPoint lecture with astronomical images and animations followed by a short Q&A session. Astronomical observing at the Mehalso Observatory typically take place if weather conditions are favorable. Lectures are suitable for ages 8 and up.
For more information, call the School of Science at 814-898-6105.
 
Upcoming Astronomy Open House Night & Special Planetarium Events
Wednesday, January 26, 2022
"Recreating the Early Universe in Atomic Collisions"
Presenter: Dr. Dustin Hemphill
Assistant Teaching Professor of Physics
Penn State Behrend
Time: 7:30 p.m. | Location: 101 Otto Behrend Building 
What made up our early universe and how did this matter behave? Droplets of the early universe are produced in very energetic collisions between atomic nuclei. The resulting medium is a plasma of sub-nucleon particles known as quarks and gluons. While the theoretical description of the quark gluon plasma has been developed since the 1980's, experiments at the Relativistic Heavy Ion Collider (RHIC) starting in the year 2000 found completely unpredicted behavior. Dr. Hemphill's work advanced our understanding of this unexpected behavior.