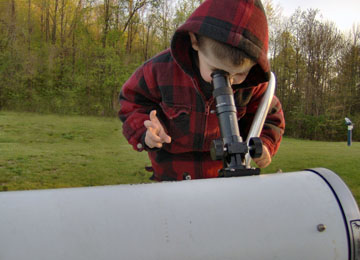 Astronomy Open House
All are invited to learn more about the sky above us in these non-technical presentations, which include astronomical viewing at the Mehalso Observatory, weather permitting.
Yahn Planetarium at Penn State Behrend
For more than fifty years, the Erie Planetarium served as a resource for the Erie community, and it continues today as the Yahn Planetarium, now a part of Penn State Behrend. The planetarium opened to the public on November 6, 2014, on the Behrend campus.
Science Story Time
Once a month, you're invited to bring your preschooler to Penn State Behrend for story reading, interactive activities, and "out-of-this-world" fun. For more information, email the Science Story Time team.
Science Olympiad
The Science Olympiad is one of the premier science competitions in the nation, involving over 7,000 teams in all 50 states. The challenging and motivating events are aligned with PA Science Standards as well as National Science Education Standards.
Sigma Xi Undergraduate Research Conference
The Penn State Behrend-Sigma Xi Undergraduate Research and Creative Accomplishment Conference provides an opportunity for students to present their research and creative accomplishment results in a public setting. Many students use this regional conference to practice their presentations prior to presenting them in a national or international setting. Students present their results either by poster or by oral presentation. The college also invites students from other regional colleges and universities to participate.
Darwin Day
Once a year, a series of events are held in honor to Darwin's birthday. Attendees will gain an understanding of the underlying concepts of his theory and how it explains the rich diversity of life on Earth. Morning programs are reserved to AP/Honors high school biology students, and evening events are open to the general public. For more information, contact the School of Science at 814-898-6105.
Science Seminars
A number of seminars on various scientific topics, led by our faculty and guest presenters, are held throughout the year.