2020 Math Options Career Day will be held on Tuesday, May 12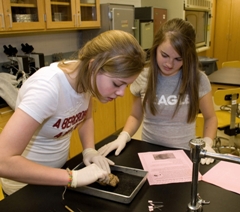 Welcome to the Math Options program, a math, science, technology, engineering, and business career day for seventh- and eighth-grade girls. This program has been designed to provide information on careers in mathematics, engineering, technology, and the sciences to young women at a time when they are making important academic decisions. Girls from schools in Erie, Crawford, Potter, Venango, and Warren counties attend the Math Options program.
Looking Back: Math Options Career Day 2019
On May 7, 2019, Youth Education Outreach hosted the 23rd annual Math Options Career Day. Nearly 200 female students from 36 schools experienced interactive workshops while meeting women and men who work in STEM fields.
Our keynote speaker was Emily Miksa. Emily is a Penn State Behrend 2019 industrial engineering graduate. Emily is from Conneaut Lake, where she was active in band, choir, and the theatre throughout her elementary, middle and high school years. While at Penn State Behrend, she developed an interest in STEM fields and represented the college as a Behrend Engineering Ambassador. Emily had an internship in Michigan at Arconic and another at Pratt and Whitney in Connecticut. In June she began her next adventure in the Quality Engineering Development Program at Pratt and Whitney.
Contact YouthOutreach@psu.edu for more information.