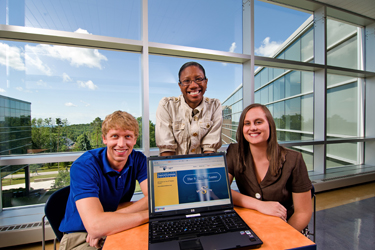 Research
Penn State Behrend annually funds nearly $250,000 in undergraduate research opportunities, giving students hands-on learning experiences in their areas of interest. Each student is eligible for grants ranging from $700 to $1,200, and follows an application process that includes selecting a faculty mentor, developing a research project, and creating a formal proposal.
The college also hosts an undergraduate research conference each year where students present their work.
 
Outreach Opportunities
Black School of Business students have an opportunity to collaborate with professors on cutting-edge projects that make a difference in the real world, whether through Innovation through Collaboration (ITC) Projects or through research projects.
Students also work in the college's many outreach centers, including Partnership Erie, under the direction of Dr. Kathleen Noce, and the Economic Research Institute of Erie (ERIE), under the direction of Dr. Kenneth K.T. Louie.
 
Black School of Business Outreach Program
Our faculty can come to your school—or you and your students can come to us on a bus trip we'll sponsor. We can customize classroom topics and experiences based on your subject areas and teaching needs. We're prepared to talk to students about business topics that align with the coursework you're presenting.
 
Sample Topics That Meet Pennsylvania's SAS Requirements
Accounting Fundamentals
Accounting as a Profession
Algorithms and Programming
Career Opportunities with a Global Firm
Contemporary Marketing Careers
Dynamics of Economics in the Modern Age
Entrepreneurship — Setting Goals for New Business
Functions of Government
Global Management Fundamentals
Global Marketing Today
International Business
Investing in Your Future
Personal Finance and Budgeting
Self Marketing for Career Success
For More Information
Contact:
Linda Hajec
Assistant Teaching Professor of Accounting
Associate Chair, Outreach
Black School of Business
Penn State Behrend
814-898-6102
[email protected]